This Genius Product Will Get You Out The Door (With Gorgeous Hair) In No Time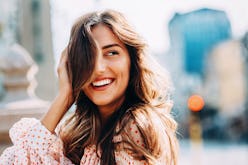 Whether you like to squeeze in an early workout or are partial to the snooze button, we all want an efficient morning hair routine, not to mention a style that lasts well into happy hour. Luckily, Living Proof has created a genius in-shower product that makes quick styling so much easier. After you wash and condition, apply the Perfect Hair Day In-Shower Styler and lightly rinse out. The remaining product leaves locks looking shiny and feeling super soft. Gently towel dry, then try our favorite trick: Throw your damp hair in an updo for your commute to the office. When you arrive, let it down, and you'll have the perfect bounce for the workday and beyond (plus no damage from hot tools). Scroll through for five styles that give you every kind of look you may want. Here's to getting out the door in style.
Early Morning Hacks
For Tons Of Body
Pulling damp hair into a ballerina bun is the best way to get lots of body and big curls. The secret is to keep the ends neatly tucked in when wrapping hair up—a messy bun can result in awkward kinks.
For Loose Boho Waves
When in doubt, give yourself a braid. Each plait will result in a bend, leaving you with perfect beach waves every single time.
For Old-Hollywood Waves
Rolling your hair inward from ends to roots is the easiest way to get cascading Old Hollywood waves, and trust us, getting your strands in position is a lot easier than it seems. Click here for the full tutorial.
For Textured Beach Waves
When it comes to braids, the more plaits, the wavier your hair will look when you take them out. Two tight French braids give you a just-from-the-beach texture without the sandy bikini.