This Shampoo Smells So Bad But It Gave Me The Shiniest Hair Of My Life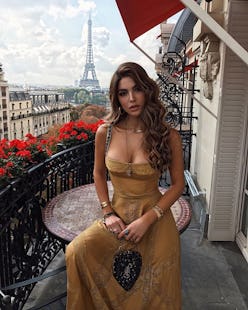 Despite years of working in the beauty industry, polling friends for their best product recommendations and trying countless DIY recipes, I've never been able to get a really good shine on my hair. Oils give me a gloss, but they make my mane so greasy. Masks help, but the results never seem to last. So when I hear about a rinse that falls somewhere on that spectrum and promises shinier, stronger hair, I decide I'll try it … maybe.
Read more: How To Make Apple Cider Vinegar Taste Good If You Hate The Flavor But Want The Benefits
I've heard so much about DpHue's Apple Cider Vinegar Hair Rinse. Since I hate the smell of vinegar, I've never tried DIY versions, though they're known to impart an unbeatable shine. I figure a store-bought option is perfect for me. There's no way somebody would sell a hair product that smells like straight-up vinegar right? Wrong! This one is as potent as any bottle of ACV from the grocery store. Part of me thinks it's more of a reason to try it (that means it's legit, right?) and the other part just can't bring myself to soak my hair in it. I decide to pass. I leave it on my shower shelf and opt for my everyday shampoo.
Months go by, and even though the rinse is sitting right in my shower, I forget about it. I almost throw it away a couple of times in an effort to declutter, but I can't bring myself to waste a brand-new beauty product. Then one day, DpHue's Apple Cider Vinegar 2.0 lands on my desk. It's a Himalayan salt scalp scrub infused with (you guessed it) more vinegar. I already know this jar smells bad, but before I write it off, I throw it in my purse and take it home. I'm not just giving in to my hoarder tendencies—I swear by a similar scalp scrub by Christophe Robin so I figure if it's half as good, it's worth a try. As for the smell, I'll just have to suck it up.
With my newfound courage, I crack open the scrub and brave the pungent odor. I love how the scrub feels on my scalp. I can feel it deep cleaning without being too harsh, and it lathers (that's really important to me). Thankfully, the scent begins to wear off and completely disappears once I rinse it away. I follow it with the apple cider rinse—I've gotten this far, right? To my surprise, this one also lathers. You work it in like a shampoo, not just run it through your hair as the name suggests.
I give myself a blowout and I'm stunned by how shiny my hair looks (and no, I don't smell like vinegar). Here's where I kick myself for not using it sooner. Without using any additional shine-boosting products, my hair has a healthy sheen. It's so shiny in fact that at dinner my mom confuses it for a cluster of gray hair. And with that, I come to realize I kind of love my new apple cider vinegar products. And they actually don't even smell that bad.