DIY Hair Masks For Every Hair Type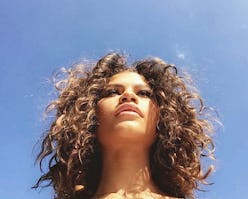 Whether you have straight, wavy or curly hair, we can all agree that our regular conditioning routine often falls short. If your hair feels dry and brittle or limp and lackluster, we have the masks for you. And because we believe in working with what you already have, these DIY hair masks can all be made with ingredients you can probably find in your kitchen right now.
For Curly Hair
Curly hair tends to get dry easier, so a moisturizing mask is just what you need to bring your hair back to life. Bananas are a natural source of biotin, avocados contain high doses of vitamin A and antioxidants and mayonnaise is the perfect ingredient for restoring moisture in your hair. Apply the mixture from roots to tips and let sit for 15 minutes.
For Thin Hair
This detoxing scalp mask helps exfoliate and remove any product buildup, while also stimulating the hair follicles and increase circulation to promote hair growth. Massage the mixture and let sit under a shower cap for 15 minutes.
For Dry Hair
Moisturizing olive oil, protein-packed yogurt and honey loaded with antioxidants and nutrients are the perfect combination for reviving dry locks. Mix the ingredients well and apply to damp hair, Let it sit for 2o minutes and wash your hair really well.
For Color-Treated Hair
Color-treated hair is notorious for being damaged and dry. Apply a protein-packed egg yolk, nourishing coconut oil and nutrient-rich honey to revive your stressed strands. Let it sit for 30 minutes and rinse thoroughly.
For Oily Hair
If your scalp tends to get greasy easily, cut down on the shampoo sessions by applying this weekly hair mask. Apply the mask evenly throughout damp hair and cover with a shower cap. Let sit for 30 minutes and follow with shampoo and conditioner.