The Best Beauty Tools That Changed Our Lives In 2016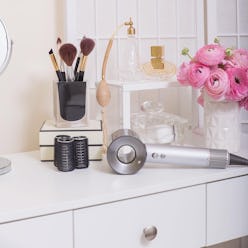 Dear 2016, thanks for the (mostly) good times and even better beauty innovations. We're remembering you in the best way we know how—by compiling a comprehensive list of our favorite hair, makeup and skincare devices that launched this year. Fellow product junkies, let's take a walk down memory lane and shop the groundbreaking tools that will keep us all looking gorgeous long after the ball drops.
Playing Favorites
The Face Steamer
Take your at-home facial to the next level with this little machine that detoxifies and hydrates skin in one step. Fill the tank with water and let your face steam for up to nine minutes. Seriously, it's a game changer.
The Cool Blow-Dryer
Not only is the Dyson dryer the most Insta-worthy hair tool on the market right now, it actually works. Dry your hair in half the time, without all the noise. Watch us try it here.
The Mini Face Cleanser
We'd never travel without our cleansing device, and now we don't have to. This mini (macaron size, to be exact) Luna pulsating tool gets our skin squeaky clean and takes up so much less room in our carry-on.
The Smarter Mirror
It's like a smartphone built into your vanity mirror. HiMirror helps you track skin conditions such as wrinkles, fine lines, dark circles, pigmentation, breakouts and pores and shows progress over time. It also keeps an inventory of your skincare products and suggests the best items for hitting your complexion goals.
The Easy Hot Rollers
The latest addition to T3's effective and beautiful collection of hot tools, these make styling your hair so much easier. Velvet flocking around the shaft ensures that hair absorbs heat without burning and makes for easy removal—no more rollers in a twist.
The Do-It-All Brush
Smooth on your foundation for a flawless, airbrushed finish, or indulge in an at-home spa ritual when you use this brush to apply body lotion.
The Tiny Hot Tool
We love how this tool is small enough to fit in a clutch but packs enough of a punch to get your hair pin straight (or perfectly wavy).
The Mini Dryer
Speaking of tiny tools, this mini blow-dryer makes traveling easy and works just as well as your full-size version.