My Dry Hair Goes Feral For These 10 Hydrating Products
Courtesy of Erin Lukas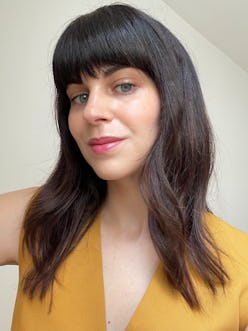 We may receive a portion of sales if you purchase a product through a link in this article.
It's cliché but true: you want what you can't have. For me, this includes owning a parlor floor apartment in a Brooklyn brownstone, an 8p.m. Friday reservation at Carbone, and hair that isn't brittle. While two out of these three daydreams are harder to obtain, restoring my dull, dehydrated strands is attainable by following an effective dry hair routine.
As someone with thick, type 1C hair, my texture naturally leans dry and slightly course. On the plus side, these attributes allow me to get away with bi-weekly washes, but my strands are prone to frizz and often looks lackluster. Not to mention, my ends get extremely brittle and split. Admittedly, I don't do my hair any favors. I get single process color treatments every two to three months and I pretty much use a flat iron or curling wand to style my hair every day. I turn to hot tools to minimize any kinks and frizz from my styles, but it does creates a vicious cycle of dryness.
I'm a stubborn Aries so I'm set in my ways, but thankfully, I've nailed down a simple hydration-centric hair care routine that douses my strands in moisture, plus repairs and prevents damage. There are a ton of products out there, but I've found that formulas stacked with plant-based oils and bond-building technology fare best with my hair concerns.
Ahead, the 10 essential products I keep stocked in my bathroom for softer, smoother hair. And hopefully, you'll find them just as effective, too.
In-Shower Staples
Post-Shower Staples
Extras