An Expert-Approved Hair Care Routine For Your 40s & Beyond
Meet your new go-to products.
Edward Berthelot/Getty Images Entertainment/Getty Images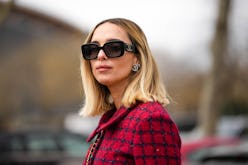 Over 40 Beauty
We may receive a portion of sales if you purchase a product through a link in this article.
You don't need a time machine to notice that your hair is different in your 40s compared to your 20s, but age-related changes — grays, dryness, and weaker strands — can still feel like a curve ball. Anabel Kingsley, consultant trichologist and brand president for Philip Kingsley, explains: "Just like we don't have the same facial skin tone in our 40s as we did in our 20s, we do not have the same quality of scalp or strands either." So after curating a thoughtful (and age-appropriate) skin regimen, it's time to reconsider your everyday hair care routine for your 40s.
In our 40s, the hair's regenerative abilities decline. Kingsley says hair pigment production also decreases as we get older, and environmental aggressors, such as repeated UV exposure, also take their toll. The loss of pigment and wear and tear present styling challenges as hair texture becomes coarser, frizzier, and drier.
The estrogen drop during perimenopause (typically in your 40s) can also impact the hair, specifically in terms of density and the growth cycle. "Hair growth does decrease during perimenopause or post-menopause," says Dr. Anthony Rossi, M.D., a board-certified dermatologist in New York City. Also, as you lose estrogen, skin becomes drier, which can also impact the scalp, he adds. It also explains why your hair may seem more fine, delicate, and drier than in years past. Severe and progressive hair loss conditions can surface around this timeframe as well, as female pattern hair loss in women typically begins in the 40s, 50s, or 60s, Rossi adds.
If you're concerned about hair loss, it's best to schedule a checkup with your doctor if your thinning involves a widening part, shrinking ponytail, or receding hairline around the temples. "A board-certified dermatologist can run bloodwork and assess if there is a nutritional deficiency, such as iron or other vitamin levels, or even a different underlying cause such as thyroid issues," Rossi says.
As for your everyday hair routine, there's plenty you can do at home to give your hair the extra TLC it needs. Read on for expert-approved products and advice for getting your hair to look its best in your 40s and beyond.
Sulfate-Free Shampoo
Make time to wash your hair regularly to ensure your scalp is clean. Dry shampoo is a go-to to stretch out a blowout or give roots extra oomph, but it shouldn't replace traditional shampoo. "Buildup from sebum, debris, and daily living can lead to irritation and flaking," Rossi says. The goal for both fine and curly textures is to find a gentle formula that balances moisture for the scalp and hair. "It's important to wash away impurities without stripping your hair or scalp," celebrity hairstylist Bridget Brager adds.
Your scalp may become more sensitive and reactive as you age. A fragrance-free shampoo, such as Better Not Younger Full Transparency Pure Revitalizing Shampoo, is designed to purify without causing irritation. Curls and coils are vulnerable to product buildup so it's important to find a non-stripping formula like a co-wash, which combines gentle cleansing with conditioning. Both affordable and rich, Dove Love Those Bold Curls Co-Wash is infused with nourishing coconut and castor oils.
Nourishing Conditioner
Listen up, fine hair textures: You don't have to sacrifice moisture for body. "It is a myth that skipping conditioner makes your hair more voluminous. I have seen a lot of women with not only fine hair, but hair that is brittle and breaks easily. Always condition your hair from mid-shaft to ends," Brager says. Aging exacerbates dryness, which is already an issue for curls, so look for a nourishing formula that suits your curl type and porosity.
John Frieda Frizz Ease Replenish & Repair Conditioner smooths down the cuticle and infuses hair with a moisturizing blend of oils like argan, moringa, and coconut oil. For textured hair in need of deep hydration, a rich formula like Curl Wow Curl Coco-Motion Lubricating Conditioner won't weigh down spirals and coils.
Scalp Serum
Start caring for your scalp like your complexion. In addition to regular cleansing, you can keep this skin hydrated by applying a treatment serum on freshly washed hair before styling or before bed (if you wash your hair at night). Brager recommends Rodan + Fields Densifying + Moisturizing Scalp Treatment. "This is a fast-absorbing, lightweight treatment made to nourish the scalp and repair and prevent damage for fuller, thicker hair," says Brager, who is also an ambassador for the brand. For dry, flaky scalps, Vegamour's GRO Scalp Detox Clarifying Treatment also helps rebalance skin.
Pre-Shampoo Treatment / Bond-Building Mask
Hair color and other chemical processes weaken hair elasticity, which is how long a strand can stretch before it returns to its normal state. If it can't stretch, it will break, Kingsley explains. If you color-treat your hair, consider a bond repair or strengthening mask once or twice a month as part of your maintenance plan. No need to overdo it, though — once a week or every other week is a good schedule. "Too much of a good thing can make the hair overly brittle, and you don't want to over-deposit that much protein in the hair," says George Papanikolas, celebrity colorist and Matrix ambassador. Philip Kingsley Bond Builder Restructuring Treatment is an intensive pre-shampoo treatment that restores both strength and stretch post-color. Coco & Eve's bond-builder is another option for strengthening hair and preventing breakage.
Tone-Correcting Shampoo
Grays and color-treated hair may take on unwanted yellow tones or get dingy, but you can keep your color bright and fresh at home. Papanikolas recommends keeping a purple shampoo in the rotation to counteract any tonal discoloration. Pigmented shampoos are temporary fixes but can build up if you overdo it, so always use as directed on the bottle. Matrix So Silver neutralizes brassy undertones on blonde, platinum, and gray hair. Brunettes can use a blue tone shampoo to cancel orange and brass discoloration.
Detangling Hairbrush
Hair brushing creates mechanical damage and can pull out hair (that you probably can't afford to lose, if your hair is thinning). "Test your brush on the back of your hand; if it hurts or leaves marks, it's too rough for your hair. Always detangle your hair from your ends up and be gentle," Kingsley says. Sheila Stotts Untangle Brush works wet or dry on all hair types. Brager says it's even gentle enough for those with hair extensions. Celebrity stylist Felicia Leatherwood's detangler is another option for those with textured hair — the flexi-bristles are widely spaced for curls and coils.
UV Protectant
"Gray hair lacks pigment, making it more susceptible to sun damage, so make sure to protect your strands with a spray or cream containing UV filters or wear a hat," Kingsley says. With antioxidant-rich raspberry seed oil and jojoba oil, Arey Live In Mist doubles as a lightweight leave-in conditioner and UV shield. Bumble and bumble's Hairdresser's Invisible Oil UV spray is another solid choice — the creamy formula is stacked with nourishing oils to boost moisture and shine.
Heat Protecting Spray
Take extra precautions when it comes to heat-styling fragile hair. "Use a low to medium heat setting when you style, don't hold your hair dryer right next to your strands, and always apply a protective serum or spray beforehand," Kingsley says. Before a shine-boosting blowout, prep hair with a heat-protectant spray or oil to prevent further dryness and damage. The plant-based Rahua Heat Protectant Shield offers protection for up to 425 degrees. It acts like a hot oil treatment, delivering shine, moisture, and frizz control. Alternatively, Ceremonia's Guava Rescue Spray smells delicious while simultaneously shielding your hair from heat.
Mousse
Seeking more volume for your style? "I love a mousse for anyone with fine hair. It helps control the hair and gives that fullness back," Brager says, adding that root lifters and thickening spray may leave hair feeling too dry. For a non-crunchy finish, Nexxus Mousse Plus Volumizing Foam is packed with keratin proteins and hydrating ceramides. And if you want to create the illusion of thicker strands, Living Proof's mousse does just that without stripping strands of moisture.
Curling Wand
Hot tools (in small doses) can add polish and shape to your hair texture as it becomes coarser and harder to style. For straight or fine hair, Brager recommends using a large barrel iron to create body and smoothness at the ends of the hair (rather than a full curl). "Pick up the biggest iron you have and clip in a section of hair just below the mid-shaft. Smooth the barrel down the hair and roll it at the very ends. It creates a cool and modern concave shape that gives the illusion of body and thickness," Brager says.
Once you start going gray, your curl pattern may change. Brager recommends using an iron to reshape sections where the curl pattern is out of sync. "You might have to grab a smaller barrel iron and wrap it around just close to the roots and leave the ends out," Brager says. Like having multiple curling wands in one, the T3 Switch Kit Curl Trio offers three interchangeable wands (.5 inch, 1 inch, and 1.5 inch) to create a range of styles. For thick, coarse hair, NuMe's titanium barrels specifically cater to your hair type.
At-Home Hair Loss Treatment
Topical Minoxidil is the only proven treatment to prevent female pattern hair loss from worsening and help regrow hair, Rossi says. He typically recommends 5% treatment to his female patients (though 2% is often marketed to women). "Apply minoxidil only to your scalp, avoiding other areas, and wash your face afterward. You can start growing hair on your face or temple area, so you definitely want to make sure no residue is on there," he says. Woman's Rogaine 5% Minoxidil Topical takes about six to 12 months for results, and if you stop applying minoxidil, you lose its benefits, Rossi notes.