Here's How To Get 30% Off This Best-Selling Lash Serum For National Lash Day
Lash lovers: mark your calendars.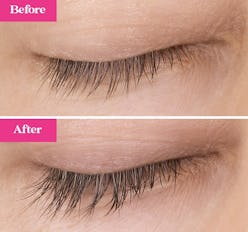 We may receive a portion of sales if you purchase a product through a link in this article.
Forget Valentine's Day — this February is all about the lashes with Grande Cosmetics' #NoFalsiesFeb celebration. In support of National Lash Day (which is a very real holiday that takes place on February 19, thank you very much), Grande Cosmetics is offering 30% off its GrandeLASH-MD Lash Enhancing Serum at Sephora. The best-selling formula helps give your lashes a fuller-looking appearance, and from February 19 to February 20, you can try a six-month supply of the serum for 30% off.
Fast Facts:
Cruelty-Free: Yes
Vegan: No
Size: 4 mL
Key ingredients: amino acids, hyaluronic acid, vitamin E
Best for: anyone who wants stronger, healthier lashes
How It Works
The serum's lash-boosting powers come courtesy of a blend of vitamins, amino acids, and moisturizing ingredients like hyaluronic acid, glycerin, and vitamin E. While the science isn't definitive, amino acids and peptides are thought to help with strengthening brittle lashes and encouraging new growth, according to professionals and anecdotal evidence. Meanwhile, those essential nourishing ingredients will help keep your lashes feeling healthy and soft.
As for who can benefit from this serum, the answer is anyone, really. The ophthalmologist-approved formula is suitable for contact lens wearers and those with lash extensions, and it can be used by those with already full lashes who want to maintain their feathery appearance, or by those with sparse or brittle lashes who are seeking a strengthening boost.
How To Use It
Consistency is key when it comes to experiencing the serum's full benefits, so you'll want to familiarize yourself with the brand's directions before you get started. Targeting the lash roots, brush the serum across your upper lash line (similar to how you would apply liquid eyeliner). The brand recommends that you apply GrandeLASH-MD once daily for three months — that's because the eyelash growth cycle typically takes 90 days.
One tube of the lash serum was designed to last you a full three months, and because it's such a concentrated formula, you only need to apply a single swipe each time (using more of the serum won't actually give you better or faster results, FYI). You can apply the serum in the morning or at night, but regardless of when you use it, you'll want to be sure you're applying it to clean, dry lashes (and then give it a few minutes to dry before you move onto your makeup or evening skin care routine).
Shop The Serum
This article was originally published on