Here's How To Get Your Hands On The Non-Invasive Laser That Celebs & Beauty Pros Are Obsessed With
No downtime, no risks — & major results.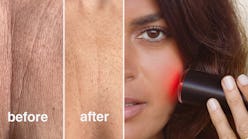 We may receive a portion of sales if you purchase a product through a link in this article.
If you follow the skin care industry, you're likely familiar with laser treatments. Seemingly everyone, from celebs like Kim Kardashian and Meghan Markle to beauty editors and top derms, swears by these non-invasive procedures. And unlike fillers, chemical peels, and Botox, lasers can be used at home since there aren't many risks or complications involved (in most cases, the downtime is practically nonexistent). One of the industry's most beloved lasers for at-home use is the LYMA laser, which counts icons like Kate Hudson, Gwyneth Paltrow, and Amber Valletta as fans. If you're curious about learning more about it, keep reading to find out what makes it so special (and how to get your hands on it).
The Science Behind The LYMA Laser
The LYMA laser is a cold laser, which means — unlike its thermal counterparts that use heat to "damage" the skin (and thus promote healing via collagen production) — it encourages dermal regeneration by targeting the chemical energy in our bodies. In layman's terms, that means cold lasers work to repair and restore your skin at a cellular level (they were originally used to treat injuries and reduce inflammation and pain).
Because the LYMA emits cold, low-level light, it doesn't risk burning your skin, which is why it's so suitable for at-home use. But don't be fooled by the term "low level" — this type of light is incredibly effective, as it can penetrate your skin down to its deepest layers (even reaching the fat and tissue below) to work its magic from there.
Who It's Good For
Because of the lack of risks and damage associated with cold lasers like the LYMA, practically anyone is a candidate for cold laser therapy. The only exception is pregnant people because there isn't enough research to inform whether these lasers could impact a fetus.
The LYMA can be used to treat and improve the following skin conditions (on both your face and body), according to the brand's website:
Acne
Rosacea
Unwanted scarring and hyperpigmentation
A loss of elasticity or firmness
Sagging or "crepey" skin
In short, with consistent use, your skin should look firmer, smoother, clearer, and generally more even and radiant.
How To Use It
Though the LYMA sounds high-tech (and admittedly, it is), it actually couldn't be simpler to use. First, you'll want to apply the brand's Oxygen Mist, followed by the ancillary Oxygen Glide serum. Then, simply hold the laser on each area you're targeting for at least fifteen minutes a day. The brand says you can go down to twice a week after the first three months (which is when you should start to notice the results), if you want, but you can absolutely continue to use it daily.
After each use, wipe the laser down with a damp cloth or sanitary wipe and be sure to charge it weekly. The LYMA can be used on your face (including the eye area), body, and on tattoos without any risk of them fading.
For a full breakdown on how to use the LYMA laser properly, you can visit the brand's website.
What It Costs
At $2,695 for the starter kit (which includes the laser, the Oxygen Mist, and the Oxygen Glide), the LYMA admittedly doesn't come cheap. But it's akin to getting a professional facial — which can cost upwards of $500 when lasers are involved — and you can use it every day for results that last if you're consistent with it. Plus, the LYMA has a life expectancy of about 10 years, so if your budget allows, it really is a great investment (especially when you consider that you won't need to get as many facials if you use this tool).
Celebrity Fans
As previously mentioned, Kate Hudson, Gwyneth Paltrow, and supermodel Amber Valletta are all fans of the LYMA laser. But its list of famous devotees doesn't end there. Celebrity facialist (and skin care royalty) Joanna Czech swears by the device, makeup artist Romy Soleimani uses it on clients like Cara Delevingne before red carpets, influencer extraordinaire Chiara Ferragni has posted videos of herself using it, and Eva Chen loves it, too.
Shop The LYMA Laser
This article was originally published on