Elorea's New Fragrance Collection Is Giving These Lost Korean Words New Life
The four perfumes cover all major scent families.
Courtesy of Elorea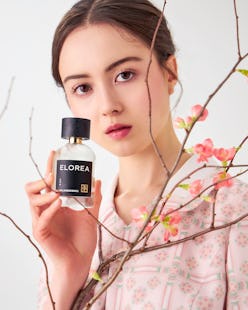 We may receive a portion of sales if you purchase a product through a link in this article.
A trip to South Korea is a treasure trove for beauty enthusiasts. The country is known for its cutting-edge skin care products and ingredient-first makeup formulations that are lightyears ahead of North American brands. And while many K-beauty brands have become popular exports, there's a slew of products only discoverable by booking a flight. However, fragrance is another story. When shopping in Seoul, Wonny Lee and Su min Park noticed the perfume brands carried were the same as what you'd find in New York or Paris. So, the couple created Elorea, a fragrance brand that honors the founders' Korean heritage and highlights the culture's approach to scent and lifestyle. Following a successful collection of hand care products, candles, and elemental scents, the brand has launched The Forgotten Words Collection.
Each of the four eau de parfums in The Forgotten Words Collection are built around Korean words no longer used in the modern lexicon. They also cover the four major scent categories: woods, floral, warm, and fresh. Lee and Park chose the four words based on their poeticism and ability to transport the mind to a specific place or memory.
"The language Hanguk-eo is deeply cherished by Koreans. The Forgotten Words Collection reflects traditional Korean culture by drawing inspiration from words that are no longer used in common day," Lee tells TZR. "While not used, these words are still incredibly important to the country's cultural heritage. We felt that these words had such poetic, deep meaning, so each fragrance in the collection evokes a very specific setting or emotion."
Channeling specific emotions and moods through scent is how Elorea is bringing modernity to Korean traditions through this collection. "People are looking at fragrance as more of a fashion accessory," Park says of how Korean's approach fragrance in modern day. "Whatever you're feeling and wearing that day, fragrance is part of it and enhances your look and mood."
The scent lineup includes Be By My Side, a sensual warm amber scent inspired by "hūnoni"; Hazy Blue, a clean, aquatic scent based off "ēnae," Gentle Shower, a woody fragrance built around "jambi," and Inflorescence, a soft fruity floral perfume that channels "songari." All four scents are $125 for 50 ml or $195 for 100ml, and available at the brand's website. Staying in line with the brand's formula standards, The Forgotten Words fragrances include key ingredients sourced from Korea, produced in small batches to ensure high quality, vegan, and free of controversial synthetics and raw materials such as phthalates, parabens, sulfate, styrene, musk Ketone, and benzyl acetate.
To create scents that fully embody these words, the brand partnered with Givaudan, the world's leading perfume house, and its senior perfumer Linda Song. Growing up Korean, Song had familiar ties to these words as Lee and Park, so the collaboration was organic.
"There was something special about a shared cultural background that gave us a feeling of familiarity, particularly knowing that our sources of inspiration were locations, flora and experiences from Korea," Song says of the creative process. "In addition, we incorporated ingredients that are grown and celebrated in Korea such as ginseng which is the top note in BE BY MY SIDE. This scent was inspired by the Korean word, hūnoni — missing someone dearly. With this in mind, we layered forget-me-nots which makes for a truly unique olfactory experience."
Ahead, discover Elorea's The Forgotten Words Collection, including the inspirations behind each fragrance and the key notes in their scent stories.
Shop Elorea's The Forgotten Words Collection