This Doctor-Founded Skin Care Brand Needs To Be On Your Radar
DefenAge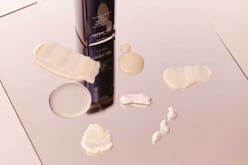 In a sea of never-ending skin care brands and product launches, it can be hard to separate those that are worth your money from those that aren't even worth a second glance. Throw in the fact that everyone's skin care goals are different (and that your skin and your BFF's might not react to a product the same way), and things get even more complicated. But every so often, a line like DefenAge comes along that really stands out from its competitors. The science-backed line first released its products to dermatologists and plastic surgeons in 2015, before becoming available to consumers in 2019. The brand has a small but comprehensive lineup of skin care essentials that includes everything from a face cream to a neck cream to an eight-in-one serum. Though the price tags on these products are admittedly high (ranging from $62 for a cleanser to $264 for a serum), all of the products are formulated using a patent-pending technology that was created by medical experts. DefenAge also makes multiple kits that offer their top products in travel-size bottles for those who want to test the line out before they commit.
Ahead, learn more about how DefenAge is redefining at-home skin care, and see the best-selling products reviewers and dermatologists are raving about.
What Makes DefenAge Different?
DefenAge was developed in 2014 by two doctors after they discovered the wound-healing and skin-regenerating benefits of Defensin-molecules. The defensins used in DefenAge's products are an identical copy of human defensins made via biosynthesis, and they work by activating dormant skin cells. This technology is what allows the products to address nearly every top skin concern, including loss of firmness, enlarged pores, uneven skin tone, dryness, dullness, rough texture, and excessive oiliness.
Science aside, the brand has also pledged to be transparent about its ingredients, focusing on making products that are free from a long list of potential irritants like synthetic fragrance, chemical sunscreens, sulfates, and gluten. All of the products are cruelty-free and free from animal and human-derived ingredients, and DefenAge remains independently owned and operated in Southern California.
Who Is DefenAge For?
Because of the line's ability to target a wide variety of skin concerns, and the fact that it leaves out common irritants, the products are able to be used by all skin types. DefenAge says their products can be combined with most existing skin care regimens, and the hydrating, soothing, and antioxidant-rich formulas can also help enhance results following aesthetic procedures such as microneedling.
Which Products Should I Start With?
Currently, DefenAge makes seven key skin care products, as well as several kits and even a silk pillowcase. If you're not sure which product to try first, consider one of these best sellers.
Clinical Power Trio
If you're trying DefenAge for the first time, this Clinical Power Trio comes with the 8-in-1 BioSerum, 24/7 Barrier Balance Cream, and 2-Minute Reveal Masque. Designed to be used a bit differently than you're probably used to, DefenAge's face cream should be applied before the brand's serum for the best results. Both products can be used daily in the morning and at night, but the mask should be used more sparingly, either once or twice a week, as it uses sugar crystals and fruit enzymes to gently exfoliate the skin. The kit is available at multiple price points, ranging from a trial-size option that gives you a two to three day supply ($28.50), to the brand's full-size+ set that will last six to eight weeks ($424).
8-In-1 BioSerum
DefenAge's 8-In-1 BioSerum improves the overall appearance of your skin without causing irritation. Because of this, it's a particularly good alternative to retinol for those who can't use the ingredient (though it's perfectly suitable for all skin types). In here, the brand's Defensin complex is combined with niacinamide, hyaluronic acid, and sea whip extract to visibly improve skin's firmness and elasticity while minimizing the appearance of enlarged pores and unwanted hyperpigmentation in as little as one week (and with full results achieved after six weeks of daily use).
3D Eye Radiance Cream
The skin around our eyes can be the most difficult area to treat because it's so delicate. DefenAge's 3D Eye Radiance Cream was formulated to hydrate and soothe, making it gentle enough to be used on your upper eyelids as well as under your eyes. Defensins, hyaluronic acid, peptides, and antioxidants work together to reduce puffiness and provide overall lifting, firming, and smoothing benefits. The eye cream also has a metal applicator tip that immediately soothes skin with a cooling sensation and is more hygienic since you're not repeatedly dipping your fingers into a tiny jar of product.
This article was originally published on