Crepe Erase Says Their 2-Step System Is Sold Every 45 Seconds — Here's Why
The skin below your chin deserves some TLC, too.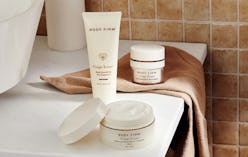 We may receive a portion of sales if you purchase a product through a link in this article.
When it comes to skin care products, most of us are preoccupied with the skin on our faces. But what about the skin on our bodies? After all, dry skin, hyperpigmentation, clogged pores, and a loss of elasticity can happen below our necks, too. Crepe Erase seems to be one of the rare beauty brands that takes this into consideration, and while they do offer several products for your face, the line primarily focuses on body care. If the brand is new to you, or if you're looking to step up your skin care routine, allow us to introduce you to some of their best-selling products.
Crepe Erase is popular with celebrities and doctors alike — legendary actress Jane Seymour is a spokesperson for the brand, and she touts the brand's Overnight Facial Pumping Treatment as one of her favorite products. Meanwhile, dermatologist Susan Van Dyke previously recommended Crepe Erase's Anti-Aging Hand Repair Treatment to The Zoe Report. However, according to the brand, their most popular offering is their two-step system. Find out more about it, below.
About The Crepe Erase 2-Step System
According to the brand, one Crepe Erase system sells every 45 seconds in the U.S. So, what exactly does it do, you might ask? Designed to address crepey skin (or, in other words, skin that has lost some of its elasticity) the two-step system comprises an exfoliating pre-treatment and a rich cream that work in tandem to support smooth, firm skin. Crepe Erase recommends using the products on your arms, legs, and neck, but you can use them anywhere on your body that's looking (or feeling) less firm than you'd like. However, even if you're not dealing with a loss of elasticity, almost anyone can benefit from the one-two punch of this exfoliating and nourishing duo.
The Science Behind The Products
Body Smoothing Pre-Treatment: The first step in the system is an exfoliating treatment that uses a blend of chemical exfoliants — including lactic, glycolic, and salicylic acids — to shed dead skin cells, a process that not only leaves skin immediately smoother, but also allows the follow-up cream to more effectively work its magic.
Advanced Body Repair Treatment Ultra: After applying the exfoliant, you'll want to go in with the treatment cream, which is loaded with nourishing ingredients like squalane, cocoa butter, and olive, coconut, and grape seed oils. What's more, the cream contains peptides that are known to help support the natural production of collagen in our skin. Immediately, you can expect skin that feels smoother and more hydrated; over time, you may experience skin that looks and feels tighter and more firm.
How To Use The System
The exfoliating pre-treatment is meant to be applied to wet skin, so you'll ultimately wind up using it in the shower. After toweling off, you can apply the treatment cream to either damp or dry skin. Note that the cream is on the richer side, so take a minute or so to massage it into your skin thoroughly.
Limit your use of the exfoliating treatment to once a day; the cream, however, can be applied twice daily. Just remember: The system is meant for your body only — not your face.
Shop The Crepe Erase 2-Step System
If you're interested in trying out the skin-smoothing duo for yourself, you can purchase it through the link below.
This article was originally published on