Costumey Beauty Looks You Can Wear Everyday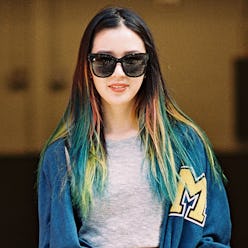 Need an excuse to shake up your beauty routine? With Halloween just around the corner, experiment with outlandish beauty options that are typically relegated to costume parties. Glitter, temporary tattoos and hair paint—and we're only scratching the surface—can enhance your day-to-day without making you look like a ghoul.
Need an excuse to shake up your beauty routine? Try our boo-tiful makeup tricks.
Photo: Vanessa Jackman
Lip Tattoos
An innovative update to the classic red lip, these temporary snakeskin-print lip tattoos add a dash of flair and won't budge for 8 hours.
Get The Look: Trim appliqués to match the shape of your lips and adhere with a wet sponge. Pair with a perfectly winged cat eye.
False Lashes
False lashes can be as subtle or as costumey as you want. For daytime, opt for a pair of partial lashes to achieve a subtle-yet-sultry cat eye.
Get The Look: Follow our steps for applying false lashes like a pro. Keep the lower lash line clean to prevent your eyes from looking too heavy.
Glitter
Tiny specs of glitter are great, but we're even bigger fans of these longer iridescent slivers. They add a unique texture and shine for a look that will rival any disco ball.
Get The Look: For eyes, layer over a creamy eyeshadow in a nude color or a lip balm. For a sublte pop, apply only to the center of eyelids.
Eyeliner Tattoos
If you don't have the steadiest of hands, eyeliner tattoos ensure a perfectly symmetrical flick every time.
Get The Look: Align tattoos to the upper lash line and adhere with a wet sponge. Pair the most subtle pair with a red lip and the more dramatic pair with black liner on the lower lash line.
Face Jewels
We're positive Gwen Stefani circa 1998 had a serious stash of these face jewels. While they are certainly not office appropriate, they're great for bohemian weekend getaways.
Get The Look: These self-adhesive gems are as easy as peel and stick. Adhere only the smaller gems around the eyes for a more subtle take on the look.
Nail Tattoos
We've all tried the nail art trend but what about cuticle art? Liven up a plain mani in a flash with these nifty add-ons.
Get The Look: Align temporary tattoos to your cuticle and adhere with a wet sponge. To mix up your look, apply the design directly on to the nail and seal with a clear top coat.
Hair Paint
Upgrade from hair chalk (which never seems to stay on long enough) with this pigmented paint that lasts up to 2 shampoos.
Get The Look: Apply to dry hair with the sponge applicator. Try streaks of color, bright tips or rainbow-colored braids.