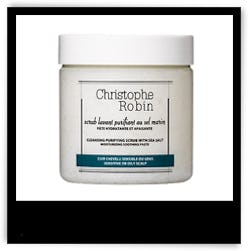 When you think of salt scrub, you typically think of a shower treatment for your body, but allow us to stop you right there because today's cleanser is actually for your hair. Brought to the beauty world by coiffure connoisseur Christophe Robin, the textured wash is to be swapped in for your conventional shampoo, freeing tresses from impurities to reveale a healthy, glossy (but not greasy!) head of locks.
The first of its kind, this paraben-free concoction is compact in design so that you only need about one tablespoon per cleanse. Used to scrub away dirt, restore balance and soothe the scalp, it goes above and beyond the duty of a typical shampoo, performing both delicately and effectively. With the promise of clean, vibrant results that can last for up to 4 days, there is really little left to consider: give your hair a reason to be happy this spring, and jumpstart sleek style with a touch of Christophe Robin's sea salt!
Availability: Christophe Robin Cleansing Purifying Scrub with Sea Salt ($50). For additional information, visit Christophe-robin.com.
P.S. A flash sale for up to 75% off clothing, accessories and home décor? You have our attention, C. Wonder! Shop the luxury label's fetching selection now.