Specialized Skincare For Day, Night & Weekend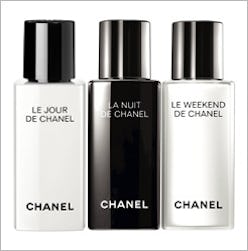 We all wear the stress of the day on our faces, so it's only natural to veer toward products that cater to removing—and preventing—those telltale signs. Chanel's specialized skincare trio works overtime to keep your complexion balanced despite a hectic schedule.
The idea behind this resynchronizing regimen is to address skin's natural rhythms throughout the day and target accordingly. The three concentrates—Le Jour, La Nuit and Le Weekend—are specially formulated with morning, evening, and weekend time frames in mind. To reactivate, recharge and renew your complexion, use these products at their respective usage phases (followed by sun protection, of course!) to reveal your most energized skin!
Availability: Chanel Resynchronizing Skincare ($85-$115). For additional information, visit Chanel.com.