The Surprising Beauty Product Madonna Swears By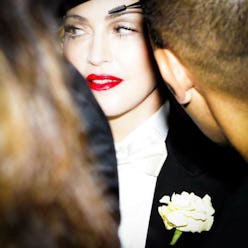 In all my years as a beauty journalist, I've interviewed probably hundreds of chemists about molecules and the general function of skin, but I can count the celebrities on one hand. So when my editor asked if I wanted to interview Madonna, tied to the US debut of her MDNA skincare line, it was a no-brainer. Not surprisingly, the seven-product collection, created with Japanese beauty company MTG, is made of the chicest ingredients, including mineral waters and volcanic-ash clay from Montecatini Terme, Italy, as well as hyaluronic acids. Over the course of our conversation, she shared a few other must-haves.
JL: Why did you want to create a skincare line?
Madonna: I wanted to create something that just works for me so I didn't have to grab one product from one line, one from another, then find out something got discontinued. But my desire evolved from being a performer onstage, traveling all the time, being under hot lights, sweating and feeling exhausted. I wanted a line that constantly rehydrates and also preps my skin to take on all those challenges.
JL: Did you like working on the formulations?
M: The whole process has been really enjoyable. MTG is a great partner, they have high expectations, and their knowledge of technology is amazing. So, for me, it's a beautiful marriage.
JL: This is an unfair question, but do you have favorites?
M: I use the Eye Mask every morning. I take it out of the freezer and let it thaw on my eyes. It's got the eye serum in it. Then there's the Chrome Clay Mask. Masks are tricky because when you wash them off, you're kind of mushing them back into your pores and you're left with debris on your face. The magnetic wand literally pulls the mask off your skin; its other side has a microcurrent capacity that infuses the serum into skin. But the Face Serum and Rose Mist are permanent fixtures in my bag. I use them liberally. I spray other people when they say annoying things. Or not.
Read the full article at InStyle.