11 Times Carrie Bradshaw's Beauty Look Was Just As Good As Her Outfit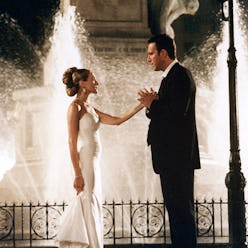 As every fashion girl knows, no outfit is complete without the right hair and makeup to go with it—and Carrie Bradshaw was no exception. As we observed over the course of six seasons (during which Carrie found herself in one "Big" rut after another, dodged a proposal from Aidan and galavanted around Paris with Aleksandr), the iconic character was dressed to the nines no matter the occasion. This, of course, always included a perfect coif, dewy skin and the occasional scene-stealing hair accessory. Ahead, our favorite hair and makeup moments from Sarah Jessica Parker's portrayal of Carrie in Sex and the City.
Who doesn't love the early years of Carrie's signature curls? Maybe they served as a metaphor for her wild and free nature.
Ombre much?
We were devastated by this breakup scene but relieved that Carrie's faux-bun-hawk stay intact.
Allow us to introduce you to short-haired Carrie...
And brunette Carrie...
And straight-haired Carrie.
Gotta love that Carrie took a half-inch barrel, created tousled ringlets and headed off for her first day of work—at Vogue.
Carrie knows that when your outfit is bold, it's best to stick with a minimal chignon.
When your publisher throws you a party for your new book, you go for that '20s-but-still-modern vibe.
Only Carrie Bradshaw can wear a hair accessory almost as big as the child she's about to baptize and make it look totally normal.
The closest Carrie ever came to being California cool.