Underpainting Is How Hailey Bieber's Makeup Artist Softly Sculpts The Face
It's surprisingly so easy.
@maryphillips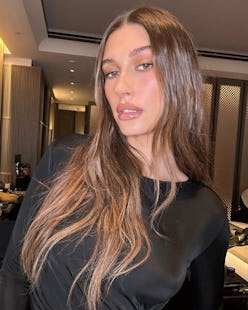 We may receive a portion of sales if you purchase a product through a link in this article.
TikTok has recently dubbed underpainting the beauty trend of the moment, and unlike some of the other so-called makeup hacks on the app (like the "Duxbury foundation challenge"), this technique is one you might actually want to implement into your routine. Like many viral beauty trends that pop up on your FYP, underpainting is nothing new. In fact, it has been a red carpet staple used by celebrity and editorial makeup artists for years to create a natural, soft, sculpted look on their clients.
"This technique is more common than you would think, and it's actually been around forever," Megan Dugan, celebrity makeup artist and founder of Lemonhead LA says, "Makeup artists have literally been doing this old-school layering technique for decades to create a soft filtered look."
The resurgence of underpainting is largely due to a viral video from Mary Phillips, celebrity makeup artist to stars like Hailey Bieber, Jennifer Lopez, and Kendall Jenner, to name a few of her A-list clients. In her TikTok, Phillips details how she does the technique and shares her tips for doing it at home. Dugan attributes some of underpainting's recent success to its beginner-friendly nature. "It's great for non-pros, especially if contouring isn't your specialty," she says.
Ahead, TZR tapped a couple celebrity makeup artists to further define underpainting and share their tips on how to do the technique — regardless of your makeup skill level. Bonus: they've also offered up their favorite underpainting products for sculpting the face.
What Is Underpainting?
Jenny Patinkin, celebrity makeup artist and founder of Jenny Patinkin Cosmetics, describes underpainting as when you contour, highlight, and sometimes apply blush underneath your foundation "to give subtle shape and definition" to the face.
Nick Lujan, professional makeup artist and director of artistry and education at Kevyn Aucoin Beauty considers color-correcting your skin a form of underpainting. Think of it this way "you are applying a shade to balance discoloration before applying your foundation," Lujan says.
Like many other makeup techniques, underpainting originated in the art world. "Artists have been using underpainting for centuries, as a way to create depth and dimension on a 2-D canvas," says Patinkin. Flash forward to today, "like so many other modern makeup trends, this one started with drag as a way to feminize and sculpt the features on the face," Patinkin adds, "Kevyn Aucoin then brought it to the makeup communities attention in the '90s and now Mary Phillips is popularizing it on social media."
But Phillips isn't the only modern artist known for this technique. Scott Barnes, a celebrity makeup artist who has worked with stars like Beyoncé and Jennifer Lopez, is also a fan and has been using it on his clients for years.
While top makeup artists swear by underpainting, it's not limited to strictly professional use. Danessa Myricks, a celebrity makeup artist and founder of Danessa Myricks Beauty loves this technique for anyone with textured skin. "It's true that highlighters tend to amplify texture," Myricks says, "but when layered underneath the foundation, you get the glow of a highlight without spotlighting unwanted texture."
How To Choose The Right Products For Underpainting
For your first time underpainting, utilize the product you already have in your makeup collection. But if you're looking to fill in any gaps, Vittorio Masecchia, celebrity makeup artist and founder of Vittorio Masecchia Beauty suggests focusing on cream or liquid contour, concealer, and blush to start.
Myricks says the texture of the products you use is important for creating a seamless finish. "When choosing underpainting textures, make sure they blend easily and evenly," she explains. "Choose textures that lay smooth without being milky or sticky." These products not only look the most natural, but they also stay put and "adhere well to the skin."
Lujan seconds that advice, and also recommends steering clear of "waterproof or quick-setting" products as "they do not provide enough playtime to finesse the look."
When picking your underpainting shades, Myricks suggests paying attention to your undertone. "Magnifying the natural undertone of your complexion helps amplify highlights while maintaining a very natural appearance," she says. If you are unsure what your undertones look like, Myricks recommends choosing a cooler tone "for a deeper, more dramatic sculpt."
After you have applied your contour, concealer, and/or blush, it is time for the most important step: blending. "You'll want to use dense brushes for your under-layers that won't over blend or overly sheer your contour and highlighter," suggests Patinkin, "Then use a very loose fluffy brush to apply your foundation that won't smudge what's been applied underneath."
Finally, if you want to intensify your look post-foundation, "you can revisit and enhance your under-paint by layering a subtle amount of powder sculpting or blushing products over top," Lujan says.
The Best Products For Underpainting Your Face