I've Tried Hundreds Of Products For Platinum Blonde Hair, & These 14 Are The Best
True confessions of a bleach enthusiast.
@Faith_Xue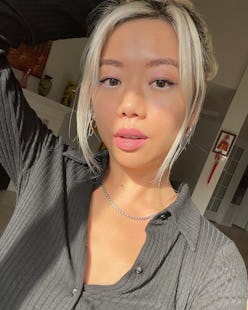 On November 10, 2018, I entered NYC's Spoke & Weal salon in Soho at 11am. Eight hours later, I exited a different, platinum-haired woman. It's been almost three years since that date, and my relationship with my hair — like all of my most intense relationships — has been full of highs and lows, of triumphs and devastations. There was the time I overdid it with a protein treatment and my hair broke off in chunks (still traumatized). There was the time I tried (unsuccessfully) to DIY it with silver dye on my own at home. There was my purple phase, my "try everything" phase, my phase where I only wore it super-straight and subsequently fried it to oblivion. Throughout all of these trials, I've known one unwavering truth: that I will never, ever go back to brunette (this is a hyperbole, but it's how I feel at the moment) — thus, I'd better figure out how to keep my bleached hair healthy, unless I wanted a head full of frayed, broken ends.
Read more: Purple Shampoo Could Actually Be Making Your Blonde Look Darker
Over the past two years, I've been obsessed with having the brightest, blondest hair in existence, while avoiding the straw-like consistency my hair tends to falls into (I have wavy, thick, slightly-coarser hair naturally). Sometimes, I stare at myself in the mirror as my colorist touches up my roots and I feel a Gollum-like urge to stroke my hair and whisper, "Brighter....blonder....my preciousssss." Because this is my unwavering goal in life, I've thus tried every brightening, hydrating hair product under the sun — if it has the word "repairing" in it or if it's vaguely any shade of purple, you can bet I've put it on my head.
95% of these products have disappointed me, either by falling short of promises or leaving my hair worse off. But the 5% that's earned a permanent place in my bathroom is the reason why I stand before you today with a head full of bright, platinum hair that may be slightly dry (bleach will do that), but overall is the healthiest it's ever been.
Today, I bequeath the findings from two years of trial and error to you. And because I am only one person with one head on which to test products, I've also included recommendations and tips from my colorist Reece Walker, or "the blonde whisperer" as I like to refer him. He's brought many a blonde back to life after cycles of dullness and dryness, and I count his word as gospel.
Read on, and bleach on.
We only include products that have been independently selected by TZR's editorial team. However, we may receive a portion of sales if you purchase a product through a link in this article.