The Best Eyebrow Growth Serums
Plus, a doctor reveals how (and if) they really work.
Amazon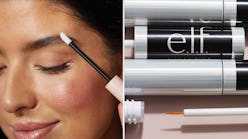 We may receive a portion of sales if you purchase a product through a link in this article.
While it's true that the scientific evidence is lacking when it comes to the efficacy of eyebrow growth serums, there's no denying the many success stories you'll find across social media (and hear from the mouths of friends). Ophthalmologist Diane Hilal-Campo, who spoke to Elite Daily for this article, confirms that it is possible to enhance the fullness of your brows with the right product and consistent use. "Look for nourishing ingredients that support hair growth naturally, such as castor oil and peptides," Dr. Hilal-Campo says of what to look for in the best eyebrow growth serums. "These ingredients strengthen the health of the hair without disrupting the health of the eye area," she adds, stressing the importance of this last part. "It is imperative to avoid prostaglandin analogues such as isopropyl cloprostenate, a very common ingredient used in today's lash and brow growth treatments," Dr. Hilal-Campo cautions. Also listed as dechloro dihydroxy difluoro ethylcloprostenolamide, prostaglandin analogues are primarily used to treat glaucoma, but have been shown to stimulate lash and brow growth, too. Unfortunately, they come with some serious side effects, and the over-the-counter growth serums they're found in aren't subject to FDA approval like medications are (except for Latisse, which is the only FDA-approved prescription eyelash growth serum with prostaglandin). "It may be effective, but it comes with significant side effects, including hyperpigmentation and fat atrophy around the eye, both of which are permanent," says Dr. Hilal-Campo of the risks associated with prostaglandin analogues.
The Expert
Dr. Diane Hilal-Campo, M.D., is a board-certified general ophthalmologist specializing in medical and surgical eye care. She has a private practice in Oakland, NJ, and is the founder of Twenty/Twenty Beauty.
How To Use An Eyebrow Growth Serum
Dr. Hilal-Campo says that if your brow hair follicles just grow slowly, but are otherwise healthy, you can expect to see some real results from an at-home eyebrow growth serum — with time, of course. "Each individual hair is on its own growth cycle, so expect to see the efforts of using a brow serum daily around the six to eight week mark," she says, adding that this also requires you to be consistent with your application routine. "I recommend using a clean fingertip to spread the serum directly onto the brows, though you can use a clean brow brush for more targeted application to sparse areas," she advises. Each brow serum will come with its own set of instructions, but typically, applying once daily will be enough to experience the benefits.
More Ways To Keep Your Eyebrows Healthy
If you feel like you're noticing a difference in the condition of your brows, the cause may have to do with your beauty routine. "The most common cause of eyebrow damage is excessive hair removal, whether through waxing, tweezing, or threading," Dr. Hilal-Campo shares. "Over time, this damages the follicle and prevents it from producing healthy hairs, resulting in thinning of the brows," she explains. Another possible cause of sparse or thinning brows is not removing your makeup properly. "If the follicle is congested or blocked in any way, it cannot effectively grow the hair," says Dr. Hilal-Campo, adding that "failure to fully cleanse the eyebrows and skin beneath them will cause this congestion." She notes that full-coverage foundations and concealers, as well as brow pencils and creams that are greasy, are the biggest offenders. "It's better to use formulas that are applied to the hairs themselves, such as brow powders or gels," she advises.
Shop The Best Eyebrow Growth Serums
In a hurry? Here are the best eyebrow growth serums:
Best Ophthalmologist-Developed Eyebrow Growth Serum: Twenty/Twenty Beauty Get Growing Lash & Brow Serum
Best Under $10: e.l.f. Enhancing Lash & Brow Serum
Best Splurge: Vegamour GRO Brow Serum
1. Best Ophthalmologist-Developed Eyebrow Serum
Using her 25 years of expertise as an ophthalmologist, Dr. Hilal-Campo developed this gentle eyebrow and lash growth serum to prioritize the health of not only your brow hairs, but your lash hairs, too. "It uses natural ingredients like castor oil and argan oil to support the growth of healthier and conditioned lashes and brows," she says of her Twenty/Twenty Beauty Get Growing Lash & Brow Serum. Dr. Hilal-Campo explains that the fatty acid found in castor oil, called ricinoleic acid, is what helps to promote hair growth. "Castor oil has also been used by ophthalmologists for many years to relieve the symptoms of dry eye," she adds. "While you can concentrate application to just the brows or lashes, you can also apply it to the entire eye area as it's very nourishing," she says, recommending that you apply the serum each night before bed. Free from prostaglandin (as are all of the products on this list), the vegan and cruelty-free serum is also made without common irritants like parabens, phthalates, and fragrance.
Key Ingredients: Castor Oil, Coconut Oil, Argan Oil Size: 0.33 oz. Cruelty-Free: Yes
Relevant Review: "Thank you, Dr. Diane Hilal-Campo for caring enough about dry and sensitive eyes to create these products! The Get Growing Lash & Brow Serum is helping my sparse lashes and brows look fuller! I put just one pump on my finger and apply to the base of my lashes and then across my brows after cleansing at night. Love the way the serum feels on my dry, sensitive eyes!"
2. Best Under $10
For a budget-friendly option, e.l.f.'s Enhancing Lash & Brow Serum costs less than $6 on Amazon, so why not give it a shot? Castor oil is the hero ingredient in here when it comes to promoting fuller brows (and lashes), but the serum contains several other moisturizing ingredients like tea leaf extract, panax ginseng root extract, and glycine, which are rich in antioxidants, vitamins, and amino acids. In addition to being cruelty-free and vegan, the serum is also Fair Trade Certified, a standard that guarantees products are made with safe working conditions and fair compensation.
Key Ingredients: Castor Oil, Hyaluronic Acid, Glycerin Size: 0.12 oz. Cruelty-Free: Yes
Relevant Review: "My brows have always been thin and blonde. From a distance, it looks like I don't even have any. Started using this just for fun, and after a few weeks, I have tons of new hairs coming in. I didn't expect this to work, nor do I understand how it's working. Bottom line is I'm happy and will continue using."
3. Best Splurge
Another option to consider, if your budget allows, is this aesthetically pleasing Vegamour GRO Brow Serum. Instead of prostaglandin, Vegamour notes that the serum uses mung bean seed extract and red clover sprout extract to condition your brows without the risk of irritation. Together, with peptides and glycerin, the plant-based ingredients boost the health and appearance of your brows with minerals like iron, zinc, and B7 (aka biotin). The formula is also cruelty-free and vegan, and purportedly reveals results in about 30 days.
Key Ingredients: Tetrapeptide-3, Mung Bean Seed Extract, Clover Sprout Extract Size: 0.13 oz. Cruelty-Free: Yes
Relevant Review: "I am shocked by how well this product works. I bought it off the recommendation of a friend and have been using it twice a day for a little over 2 weeks. My brows (who suffer from years of over plucking) have started to grow in in areas I've given up hope on. I am noticing actual results and haven't used my eyebrow pencil for over a week. I highly recommend and will definitely buy it again when I run out. It also feels really nice to put it on after showering or washing my face."
You May Also Like: A Bottle Of 100% Pure, Organic Castor Oil
If you prefer to keep it simple, skip the serum and use pure castor oil instead. This Kate Blanc Cosmetics Castor Oil is formulated with cold-pressed, USDA-certified organic castor oil that can be used to condition everything from your brows and lashes to your nails, hair, and skin. This multi-purpose kit even comes with a spoolie and a mini brush to give you a more precise and mess-free application when using the castor oil on your lashes and brows.
Key Ingredient: Castor Oil Size: 2 oz. Cruelty-Free: Yes
Relevant Review: "This oil is amazing! Just a couple drops goes a long way. I love that it's organic and it has helped my eyebrows grow in and has made my eyelashes so long. Great for dry skin as well."
Expert:
Dr. Diane Hilal-Campo, M.D., a board-certified general ophthalmologist