Tress Trend: Bright And Blonde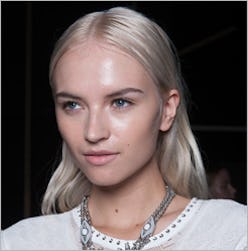 White-blonde hair is back and more chic than ever. Spotted on practically every other model at fashion week, we predict this tress trend to be the biggest of the season. While the bleached look is glam and gorgeous, it can also be a pain to maintain. If you're considering a much-needed maneover or have straw-like strands in need of some TLC, check out these powerful products designed specifically for platinum locks and color-treated hair.
Blonde Bombshells
Rocked on the spring runways of Roberto Cavalli, Stella McCartney and Prada (just to name a few), the all-over bleach blonde manes on these models are totally worth talking about.
Shampoo & Conditioner
Investing in the right shampoo and conditioner makes all the difference. To avoid dull, lifeless locks as a result of build up, try out color-friendly products that will neutralize brass while keeping your mane moisturized.
John Frieda Shampoo and Conditioner, $7 each
Looking to channel the trend? Invest in a tone-correcting shampoo and conditioner to keep your dye job bright, fresh and white. Repeated use of this drugstore dream team neutralizes brass and won't over dry your hair—it truly works!
Serge Normant Shampoo and Conditioner, $26 each
Whether you're an all-over blonde or are a highlighted brunette, Serge Normant's dynamic duo brightens blonde pigments for a gorgeous, golden glow. Not feeling the bright white look? This shampoo and conditioner is ideal for creating an au naturel appearance instead.
Repairing Mask
After bleaching, you must make time for a weekly application of a hydrating hair mask to avoid breakage and dryness. Conditioning is key!
Carol's Daughter Monoi Repairing Mask, $32
Stop breakage in its tracks and strengthen strands to perfection with this oil-infused mask. Ideal for fine and fragile hair types and safe for color-treated tresses, we back this blonde-friendly buy.
Kiehl's Olive Fruit Oil Hair Masque, $25
This treatment is ideal for those that can't live without their hot tools—your blow dryer doesn't stand a chance! Bring a weak mane back to life by applying this rich conditioner one or twice a week. Expect unbelievable results!
Phyto Phytokeratine Mask, $39
Phyto's deep conditioner restores hair to its healthiest potential without weighing it down—hello volume and shine! Even better, this dream cream is free of parabens and sulfates.
Shine Enhancer
When going platinum, bleach literally strips the natural color from your hair follicle. This process can do away with shine and luster, which is the not-so-chic price you pay. Don't worry—you can still get a gorgeous, eye-catching mane with the right products.
Rita Hazan Foaming Shine Enhancer, $26
Neutralize brassiness and achieve glossy shine with this two-in-one foam treatment. Simply lather your locks post shampoo, let sit for three to five minutes, then rinse and condition as usual—voila!
Alterna Blonde Beauty Balm, $28
Shield the dulling effects of UV rays and score a mirror-like finish with this leave-in conditioner, which is designed specifically for blonde hair.
Hair Oil
Whether you have thin or thick hair, there's an oil treatment out there for you. Run the often-overlooked potion through wet and dry strands to smooth frizz and dose split ends with instant hydration. Blonde never looked so brilliant!
Schwarzkopf BC Oil Potion Light Fishing Treatment, $18
Team Zoe tested and approved, this potion not only smells like heaven, but it really works too! Ideal for fine or thin hair, Schwarzkopf's formula strengthens the hair shaft and smooths fly-aways due to breakage.
Moroccanoil Treatment, $17-$43
If you have thicker hair, this tried and true oil treatment is for you. Apply while styling or during your cleansing routine to mend split ends and reverse the effects of damage due to over processing.
Ojon Oil Moisture Therapy, $35
Free of parabens and promised to infuse strands with shine and smoothness, this lightweight, nourishing serum is ideal for color-treated hair.
Dry Shampoo
Avoid washing your hair daily with bleached hair—it can cause over-drying and breakage! Look to a bleach blonde tested dry shampoo to save the day in between washes and root touch-ups.
Keratin Complex Volumizing Dry Shampoo, $20
Complete with a brush applicator, this bright white dry shampoo powder provides volume and absorbs oil without over-drying—a perfect purchase if you're deciding to bleach.
Bumble and Bumble White Hair Powder, $35
A favorite of those that rock the platinum look, this aerosol can provides pocket-sized coverage of exposed roots and leaves hair with a fresh, matte texture.