How "Clean" Is Augustinus Bader, Really? We Investigate.
We only recommend products we love and that we think you will, too. We may receive a portion of sales from products purchased from this article, which was written by our Commerce team.
Augustinus Bader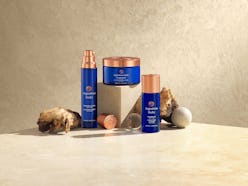 The topic of clean beauty is a buzzy one, but it's also pretty hard to pin down. That's largely because terms like "clean" and "natural" are unregulated in the cosmetics industry, meaning any brand can make the "clean beauty" claim — even if their products contain just a couple of plant-derived ingredients. Since its launch just four years ago, Augustinus Bader has set itself apart from other high-end beauty brands, as much for its efficacious products as for its commitment to using quality ingredients. Developed by biomedical scientist and physician Augustinus Bader, the celeb-loved brand counts everyone from Jennifer Aniston to Meghan Markle as fans (you may recall that Victoria Beckham liked the brand so much, that she even teamed up with Professor Bader to create her own line of products).
If you're wondering how Augustinus Bader really stacks up when it comes to eliminating potentially harmful and irritating ingredients, read ahead to learn more about the brand's formulations and its ranking from the independent health app, Yuka.
Is Augustinus Bader A Clean Beauty Brand?
Though it's only been on the market for a few years, Augustinus Bader is actually more than 30 years in the making. At the heart of all of the brand's products is its patented TFC8 technology, which Professor Bader developed as a renowned expert in the stem cell biology and regenerative medicine fields. To put it succinctly, TFC8 works at a cellular level to leave skin looking healthier and firmer with continued use.
In addition to TFC8, Augustinus Bader's products are, for the most part, created using entirely naturally derived ingredients. More important, however, is what they don't contain. Some of the ingredients on the brand's no-no list include parabens, fragrances, sulfates, talc, petrolatum, paraffin, and mineral oil, and they also avoid formulating their products with unnecessary preservatives, solvents, and emulsifiers. Additionally, in an effort to reduce its environmental impact, Augustinus Bader uses sustainably sourced ingredients and plastic-free or recyclable packaging for an estimated 70% of its products. The brand also works with The World Land Trust and The Woodland Trust to help reduce and offset its carbon footprint, and they work with multiple non-profit organizations through charitable partnerships, responsive donations, and donated sales. Plus, the brand is cruelty-free and vegan. So although "clean" is a murky (and way overused) term, Augustinus Bader has at least been proven to be eco-conscious (and thoughtful about the ingredients they use).
How The Brand Ranks On The Yuka App
Admittedly, conducting your own research on individual ingredients is a pretty time-consuming business. To simplify your search for safer products and see how your current line-up scores, you can use Yuka. The independent health app can be downloaded onto your phone for free, and it lets you scan the barcode of the food or personal care product in question to give you a quick and easy-to-understand rating, as well as a more thorough breakdown of each ingredient. After pointing out which ingredients are a cause for concern, Yuka will also recommend similar alternatives that contain fewer potentially harmful ingredients.
A scan of Augustinus Bader's top-selling products shows that the brand has an excellent rating on Yuka. Among several of its best-sellers, only one Augustinus Bader product contained a low-risk ingredient that brought its score to 93 out of 100 (that would be The Shampoo). In comparison, moisturizers from several competing luxury brands received scores of 47 and even zero for containing multiple "hazardous" and moderate-risk ingredients like petrolatum, propylparaben, paraffin, and phenoxyethanol.
Does Any Of This Even Matter?
If you find that you're using any of these lower-rated products (or products that contain ingredients that the Yuka app has declared as hazardous), don't freak out: It's important to remember that not all chemicals are bad, and that the dose is what makes the poison. (Even water can be harmful in excessive quantities, for example.) While Yuka is an undeniably clever app, use it as a jumping-off point for doing your own, deeper research. And more importantly, figure out which ingredients do (and do not) work for your unique skin type, as skin care products most definitely aren't one-size-fits-all.
That said, if you're someone who prefers skin care products that are low on fillers and high on the science, Augustinus Bader will definitely appeal to you. The fact that they only formulate their products with ingredients that serve a purpose helps justify their hefty prices, and their commitment to being as sustainable as possible is another appealing future.
Which Augustinus Bader Products Should I Start With?
If you're looking for a little inspiration as to which Augustinus Bader products you should try out first, check out some of the brand's best-sellers ahead. In general, when you're making the switch to a cleaner beauty cabinet, you'll want to start with the products that you use the most and that are designed to stay on your skin the longest (think moisturizers, eye creams, lip balms, and body lotions).
The Rich Cream
The brand's original moisturizer, and a continuous best-seller, The Rich Cream protects skin against environmental aggressors as it deeply hydrates and plumps. Ideal for dry skin types, the water-based moisturizer combines the brand's TFC8 technology with antioxidant-rich botanical ingredients like sunflower seed oil, argan oil, and avocado oil — all of which have been categorized as no-risk ingredients by the Yuka app. In the brand's clinical and user trials, 100% of participants noted that their skin felt instantly hydrated after using the moisturizer.
If you have skin that's on the oily side, you may want to try The Light Cream instead, which, as its name implies, is a lighter-weight version of their OG moisturizer.
The Eye Cream
Your eyes are already a sensitive area, so using an eye cream that's free from common irritants is essential. Augustinus Bader's The Eye Cream doesn't contain any of these potentially irritating ingredients, and it's also non-comedogenic, so it won't clog the pores around your eyes. Instead, the cream uses seaweed extract, niacinamide, and jojoba seed oil to moisturize the under-eye area, reduce unwanted puffiness, and help promote smoother, less-tired-looking skin.
The Body Lotion
While many body lotions (specifically drugstore body lotions) are formulated with petrolatum, Augustinus Bader's The Body Lotion is completely free from the ingredient. This is also formulated without fragrance, an even rarer find when it comes to body lotions. To keep skin conditioned while strengthening its protective barrier, The Body Lotion combines moisturizing and soothing ingredients like shea butter, sunflower seed oil, aloe leaf juice, and ceramides. It also has a divine, creamy texture, and makes your skin feel super smooth and soft.
This article was originally published on