Amazon's Selling A Ton Of These Things With Near-Perfect Reviews Because They Make You Look So Much Better
Shoppers are catching onto these ingenious hacks.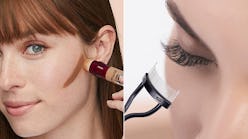 We may receive a portion of sales if you purchase a product through a link in this article.
When it comes to beauty and fashion hacks that will make you look a lot more polished — and, in turn, will make you feel a lot more confident — Amazon is an amazing resource. The site isn't just overflowing with beauty basics and on-trend fashion pieces, but it's full of legitimately clever things that will make you rethink what a big impact such a simple product can have on the way you look (think: a convertible bra clip that disguises unsightly straps, a green-tinted moisturizer that cancels out redness, and a hair "mascara" that smooths down unruly baby hairs).
As evidenced by the cult followings these products have amassed, savvy shoppers are catching onto the genius of these beauty and fashion hacks. Amazon's selling a ton of these things with near-perfect reviews because they make you look so much better — so add them to your cart before they sell out.