What *Exactly* Are Active Ingredients & How Do You Use Them?
@soleillcrow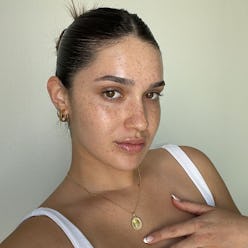 The landscape of skin care can feel like a jungle when you're trying to update your routine. Whether you're searching for new products to combat specific concerns or to adapt to your ever-changing skin type, it can get confusing with buzzy marketing terms. However, the key to finding one that yields results lies in understanding active ingredients in skin care products. For many, the words serve as a quick call out for their latest issue, salicylic acid for the blemish that appeared overnight, or matrixyl for the fine lines that have begun to creep in. But what exactly does active mean, and how do these ingredients stack up against the inactive ones?
If you've been perplexed by these terms throughout your skin care journey, the good news is that you're not alone. According to cosmetic chemist, Ron Robinson, founder of the skin care brand, BeautyStat, the active ingredients clause has different meanings depending on the product. "For an over-the-counter skin care item, it represents the ingredients that the Federal Drug Administration has approved for use against various skin concerns. However, it's also used as a marketing term for cosmetic products to describe additives the manufacturer believes work to improve the skin," he says.
To get to the root of how these ingredients work and their true purpose in products, TZR tapped three industry experts. Ahead, they share details on efficacy and the benefits of active ingredients in your skin care routine.
The Difference Between Active & Inactive Ingredients
A quick scan of the packaging or INCI list usually shows the words active ingredients in bold lettering. "These components and their percentages are shown in what is known as the drug fact box," says Robinson. Most importantly, they are approved to treat common skin issues like acne or dandruff. But there's another term used within the industry that, as he explains, is more appropriate for OTC and cosmetic products. "Functional ingredients refer to those that are intended to provide benefits for the skin," he adds. Though it's not as prevalent, it accurately describes ingredients that offer a primary benefit, such as hydration, as opposed to a targeted problem like hyperpigmentation.
"Just like all types of medicinal products, the actives in a formula are going to be the power-house ingredients that are meant to combat specific issues by making changes within the skin," says Hannah Lea Anderson, licensed aesthetician and laser technician at Colorado-based med spa SkinSpirit. In short, they enable a product to do what it claims.
On the other hand, the word inactive refers to ingredients that do not provide direct benefits but rather support the active ones in the formula. "A good example of inactive ingredients are emulsifiers, solubilizers, film formers, stabilizers, preservatives, or fragrances. While they don't target the problem, they help maintain the integrity of the formulation," he says.
What Do Active Ingredient Percentages Mean?
There are a number of active ingredients available — retinol, niacinamide, alpha hydroxy acids (AHAs), hyaluronic acid — the list goes on. But you need to know more than just their names when reading a label to determine if they're right for your routine. According to Alicia Yoon, celebrity esthetician and founder of Peach & Lily, percentages matter big time when it comes to the efficacy of certain ingredients. "Depending on the active, a specific concentration range may be proven to work, and an insufficient quantity may not give you the same outcome," she says. Conversely, a higher concentration doesn't always equate to faster or better results, and even worse, can irritate the skin.
Yoon explains that, for skin care products there is a set percentage or range that is approved for the ingredient's intended purpose. "Clinical studies help identify the most efficacious concentrations. Some actives may not have the same funding for research, but this doesn't necessarily mean that the performance won't be there," she says. That said, it's important to assess the formula as a whole.
In a similar sentiment, Robinson tells TZR that the data behind a product's entire formula is what will best validate that it will work for your skin concern. "Most experts recommend using a concentration of an active ingredient that falls within the determined range," he says. Creating a formula with the percentage that best suits the rest of the ingredients in the list is more ideal than having the highest concentration.
Choosing The Right Active Ingredients For Your Skin
"In addition to concentrations, pH levels can also be important for performance, so it's crucial to learn the actual facts behind the items you're using," says Yoon. Consulting with your dermatologist before purchasing products can save you time, money, and your skin from an onslaught of potentially irritating ingredients. Determining your goals early on also helps the specialist decipher the actives that will actually address your specific issues. "For example, if uneven tone is your top concern, vitamin C may be recommended for its brightening abilities, while an AHA is better suited for deeper hyperpigmentation and overall texture," says Anderson.
As for testing a new ingredient, Yoon notes that patience is a virtue. "Some, like retinoids, can take weeks to perform and even months before you see the intended results. Before leaning into or writing off an active ingredient, be sure to get to know the total formula and what other benefits are included," she says.
How To Mix Active Ingredients
With so many active ingredients found in a range of products, mixing is bound to occur. "It happens, but you need to be careful since some ingredients shouldn't be combined because they will be too harsh while others run the risk of reducing the efficacy," says Yoon. If you're considering a routine with several actives, Robinson notes that it's best to incorporate them at different times of the day to minimize irritation. Curating your use to either the morning or evening is the best way to ensure you're using them correctly.
Whether you've experienced a period of hormonal acne or are concerned about the telltale signs of aging, you've likely added an active or two to your routine at some point. The key to getting the most out of them is balance. "Look for ingredients known to be advantageous but also keep the formulation in mind," says Robinson. With the right knowledge, you can easily target your skin concerns and effectively treat them.