5 Boozy Beauty Products To Keep You Looking Pretty This Holiday Season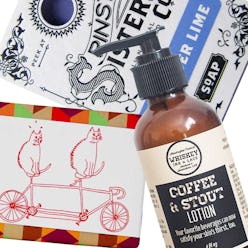 Instead of indulging in calorie-infested beers this holiday season, opt for a brew of beauty-enhancing ingredients that make your skin softer and hair shinier. These 5 boozy beauty products keep you looking your best, sans the bloat and the dreaded hangover. And there's nothing more beautiful than that.
Beauty Brew
Lotion
This 2-in-1 lotion combines coffee and beer to make your skin look and feel beautiful. Coffee reduces cellulite, while beer yeast helps strengthen skin elasticity and prevent acne by slowing the production of oil.
Shampoo Bar
This mix of aloe vera, jojoba and hempseed oils condition hair and scalp, while beer leaves locks cleansed and extra shiny. This genius packaging even reduces the carbon footprint of your standard plastic shampoo bottle.
Hair Conditioner
Shea butter in this conditioner hydrates dry, damaged hair while caffeine boosts new growth. And the best part is it won't make you smell like a brewery.
Hand Soap
Exfoliate and moisturize skin while cleansing with this beer, oatmeal, cocoa butter and essential oil-infused bar of soap.
Body Lotion
Beer brand Carlsberg branched out to create a beauty line. Freeze-dried beer and vitamin B in this lotion leave skin feeling soft and moisturized.