3 Fall 2018 Nail Color Trends That Are Subtle — Yet Stellar
Monica Schipper/Getty Images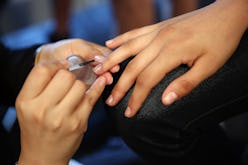 Sure, it's technically fall — a season generally filled with chunky sweaters, ankle boots, and dark nail polish — but in most cities across the US, decoding what to wear when the weather is all over the place isn't exactly easy. For one, it's usually somewhere in the 60s when commuting to work, but within a few hours, a 20-degree rise in temps means it feels seasonally inappropriate to wear anything more than a tee — let alone layers.
And while your wardrobe might be all over the place — quite literally — there's still something that's super easy to interpret: fall nail polish trends. According to celebrity manicurists Gina Edwards, Madeline Poole, and Casey Hernan, they aren't reflective of the neon hair and makeup trends we've been seeing on the runway. Intead, the biggest fall polish shades are ones you might have in your collection — soft, barely there nudes and classic rich reds. Better yet, they're all shades that look good on everyone... and are offered at a variety of price points, too.
Ahead, get all of the details on the colors that everyone from celebs to the influencer set will be wearing all fall, along with how to pick the right shade for you.
Crimson Reds
"It's a slight twist from your classic reds and gives a more richer and deeper look," Gina Edwards, KISS celebrity manicurist, tells us. "Plus, it's a safe anchor color."
If You Have Fair Skin...
Reds can always be tricky, but a lighter red fares well on lighter skin, Edwards says. And while press-on nails may seem *very* '90s, don't discount them just yet: They usually resist chipping for at least a week — and require exactly zero minutes of drying time.
If You Have Medium Skin...
"Blue reds and Bordeaux colors look decadent on a range of darker skin tones."
If You Have Deep Skin...
"Darker skin tones can also carry brighter, orange-based reds. You can have fun with cherry reds!"
Rich Neutrals
"I think people are ready to switch things up," says Madeline Poole, Sally Hansen Global Color Ambassador. "I've been seeing lots of neutrals in fashion lately, and nails usually aren't too far behind once a fashion trend begins. We've been seeing a lot of neons and bright colors, and people need a break from the shocking palettes."
If You Have Fair Skin...
"Go for a pale pink. This actually tends to work well for other shades, too — but when finding your perfect nude, look at undertones."
If You Have Medium Skin...
"Definitely look for a cream. Even a peach would be good!"
If You Have Deep Skin...
"Rose-colored beige looks the best, but coffee or a mocha is nice as well."
Dusty Rose
"It's an updated throwback to the romantic and chic 1940s," says celebrity nail artist Casey Herman.
If You Have Fair Skin...
"The key to this look is to make sure the color doesn't wash you out," she says.
If You Have Medium Skin...
If you're tan, opt for a rosier pink as to avoid graying your skin tone, Herman advises.
If You Have Deep Skin...
"Generally, the rule is to go richer when your tone is deeper."