The Most Jaw Dropping Beauty Looks At The 2021 Met Gala
Possibly even better than the gowns.
Dimitrios Kambouris/Getty Images Entertainment/Getty Images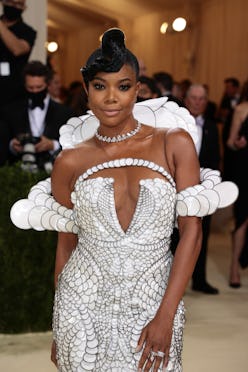 It's common knowledge by now that the Met Gala is arguably the biggest fashion event of the year. But while the gowns may be the most anticipated part of the red carpet arrivals, stars and their glam squads have proven over the years that beauty looks are just as, if not more exciting. Each year Met Gala invitees, along with their hairstylists and makeup artists, conjure up elaborate hairstyles often complete with stunning hair accessories, from headdresses to jeweled charms, and daring makeup looks that push the envelope of the evening's theme.
It's been a long while since the last Met Gala where the camp theme brought celebrities out in their most outrageous and eccentric looks — the image of Lady Gaga's iconic blonde bob and those dramatic feather eyelashes still holds so much weight to this day not to mention Zendaya's total Cinderella moment, complete with a sparkly headband that had everyone reaching for their favorite version of the hair accessory.
This year, the anticipation is higher than ever due to 2020's delay. The 2021 co-chairs for the gala, Amanda Gorman, Timothée Chalamet, Naomi Osaka, and Billie Eilish, will definitely all grace the red carpet, but other stars like Keke Palmer, Ella Emhoff, and Saweetie are also elevating the night's "In America: A Lexicon of Fashion" theme to new heights.
Everyone is sitting at the edge of their seats awaiting the glamorous frenzy. It's easy to miss some standout looks, but no worries — TZR is keeping you up to date on all the best beauty looks of the night.
Yara Shahidi
The definition of regality, Yara Shahidi had an absolute stop and stare moment on the red carpet. Between the old Hollywood-esque pin curls, the jeweled headband and the sheer veil this look is the epitome of American glamour. As told to host Keke Palmer, Shahidi says the looks was inspired by American-born, Black French entertainer Josephine Baker and anyone with eyes can see that she absolutely nailed the reference.
Keke Palmer
Major "big hair, don't care" moment as Keke Palmer steps on to the MET Gala red carpet. And as if the hair wasn't good enough, her angled metallic smokey eye (which matches her Sergio Hudson gown perfectly) gives the whole look a sultry yet regal vibe.
Emma Chamberlain
Talk about color pop! Graphic eyeliner was all over the NYFW runway and Emma Chamberlain is continuing the trend — the liner is so subtle yet so bright and impactful, complimenting her brown eyes. The brown and black smokey shadow is the perfect canvas for this neon green — an unlikely pairing of hues but it works so well!
Amanda Gorman
The first princess moment of the night is courtesy of National Youth Poet Laureate, Amanda Gorman. This jewel crown wreath is regal on it's own, but on top of Gorman's jumbo braided ponytail (another NYFW trend), and in addition to her sparkly jeweled eye makeup and you have a modern day cinderella but better — because the Met Gala definitely trumps the prince's ball.
Saweetie
Sleek is the name of the game for Saweetie. Her slicked back, side part bob with flipped ends combines about four different trends which is very on-brand for the rapper who is always either on or ahead of the trends.
Naomi Osaka
An ode to her Haitian and Japanese heritage's co-chair Naomi Osaka's hair and makeup is major to say the least. Her hair, intricately braided at the top with red floral embellishments with what looks like a bow or two wings (It's up for interpretation), is a piece of art in and of itself, but paired with her dramatic draped eyeshadow takes the look to a whole new level that only the tennis champion could achieve.
Barbie Ferreira
Not sure what's more eye-catching, the sharply angled cat-eye, the draped purple blush, the tight spiral curls, the "hair necklace" placed beautifully in her center part (hey Gen Z), or the pencil-thin eyebrows. The looks seem to be referencing multiple beauty-definitive eras, with the eyebrows pointing to the early aughts, the eyeshadow nodding to the '80s, and the pearl hair accessory reminiscent of the 1920s. So many elements to this look but it all works so well together.
Anok Yai
Anok Yai ate this look up and left no crumbs but it's quite literally no surprise that a supermodel would absolutely slay on the red carpet. This pixie cut gives her cheekbones full range to do their thing and also draws the eyes right to her collarbone, adorned with green emerald shade jewels.
Teyana Taylor
Something about this rugged yet glam look on Teyana Taylor just works in every way, shape, and form. The star and mother of two is known rock a dark and dramatic eye and dramatic baby hairs so this look is surely just an amplified take on her everyday look.
Ella Emhoff
Insert fire emojis here because Ella Emhoff is red hot. The VP's step-daughter turned model and social media darling's beauty look is so simple yet so chic with jeweled eye makeup that pops against her clear complexion and slicked-back bob.
Storm Reid
Graphic liner but make it bedazzled! Actress Storm Reid's graphic eye look is an ultra-cool take on traditional graphic liner and perfectly compliments the shape of her eyes.
Lupita Nyong'o
Never one to shy away from a 'fro, Lupita Nyong'o wore this hair look with so much elegance. While her hair is the statement of the look, having it up and out of her face allows her jewel-adorned neck to shine, and for her unique denim gown to take center stage.
Gigi Hadid
It may be 2021 but Gigi Hadid's high ponytail looks straight out of the 60s. Add in the rich, reddish copper-toned hair, and the sparkly beret and you have a modern-day Mod beauty.
Hunter Schafer
Even without the futuristic, bug-like chrome headpiece fixed to her face and milky-white contacts, Hunter Schafer's first Met Gala moment would still be show-shopping. Her sharp blonde bob was pure elegance and the bronzey, glistening cat-eye makeup applied beneath pale, arched brows follow suit.
Kristen Stewart
It's already been a major month for Kristen Stewart as she courts major buzz for her portrayal of Princess Diana in the upcoming biopic, Spencer. But in the fashion and beauty sphere, her ever-evolving look is garnering just as much attention. Her freshly-colored blonde clipped into a rockabilly-esque bang curl feels firmly on-theme as it morphs into a high pony and tumbles gentle to her shoulders. Meanwhile, rosy pink lips, cheeks, and eyes add some serious romance to the look and emphasize her bright eyes.
Emily Blunt
Emily Blunt's steps to an absolutely angelic moment: ultra-glossy skin, shimmering eyeshadow, petal-pink lips and cheeks, and one actual halo. Against her gossamer white-and-silver-spangles dress, it's just heavenly.
Gabrielle Union
If you let out an audible gasp when you saw Gabrielle Union's swoopy, inverted ponytail, smoldering eyes courtesy of makeup artist Fiona Stiles' trusty Chantecaille Luster Glide eye pencils, and bright peachy cheeks, you're certainly not alone. Equal parts sultry, artistic, and downright sweet, even the row of priceless pear-cut diamonds around her neck literally point upwards to the real star of the show.
Diane Kruger
If a high-fashion Lisa Frank personally dressed and glam'd a star for the Met Gala, it might look something like Diana Kruger's unreal beauty look. The neon lime of her dress, bright blonde of her hair, and symphony of Mardi Gras-colored jewels at her ears all serve one purpose: adding contrast and context to her incredible eye look. Hot pinks at the inner corner and royal blue cat eyes play off her naturally green eyes for a seriously major moment.
Rihanna
Would it even be a real Met Gala without an instantly trend-setting look from the high priestess of fashion and beauty herself? Her black knit beanie is a perfect nod to the American theme while the glossy tendrils escaping it and the deep, inky lip (it's Fenty Stunna Paint in shade Underdawg!) is pure, uncompromised glamour.
Kate Hudson
Wrapped in pastel pink and purple pretty enough to make anyone long for spring, Kate Hudson's shimmering skin, watermelon-pink lips, and matching eyeshadow are the definition of fresh. Makeup artist Quinn Murphy coaxed out the major glow with the help of Keys Soulcare rituals before using a slew of W3LL PEOPLE cosmetics, including the HydroLip in Berry Bae gloss for Hudson's glistening lip.
Gemma Chan
Gemma Chan is always — truly always — the very picture of refined sophistication but her pistachio-colored gown, crisscross braided updo, and sculpted cheekbones make this Met Gala moment one for the books. Take a closer look and you'll see a halo of warm green eyeshadow around her deep brown eyes for a look you're about to see on absolutely everyone this fall.
Billie Eilish
It was a tremendous night for Billie Eilish, the Gala's youngest ever co-chair — and an evening of that stature requires a look to match. Eilish's makeup artist for the evening, Rob Rumsey, details a combination of Old Hollywood meets straight-up rockstar as the inspiration behind Eilish's extra-glamorous makeup. A team of Charlotte Tilbury products brought the vision to life, including the new Super Nudes Nudegasm Face Palette and Cheek to Chic in Pillow Talk for Eilish's light sculpt and subtle rosy glow.
Iman
Even if she stopped attending decades ago, Iman's logged more than enough all-time great Met Gala beauty moments. Last night, though, she topped them all. Her glossy, carmel-highlighted hair cascades to her waist in crimped waves, her lips are perfectly lined and well-glossed, and the deep smokey eyeshadow adds so much emphasis to her legendary eyes. A golden goddess in her glistening, larger-than-life headpiece, Iman is forever timeless — a legendary beauty.
This article was originally published on