Don't Forget This Important Product Before Your Next Sun Bathing Sesh
Salt & Stone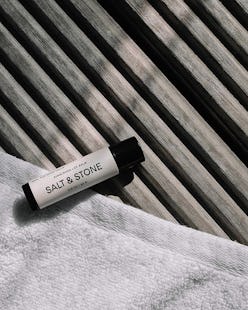 You probably don't need a reminder to slather your face in sunscreen. (Every. Darn. Day.) You might need a reminder to keep your lips protected from the sun, though, so here it is: Derms say your lips are just as susceptible to sun damage as the rest of your body. If you haven't already, it's time to curate a collection of lip products with SPF — doctor's orders, right?
"There are three major consequences of UV damage on your lips," Dr. Aanand Geria, a dermatologist with Geria Dermatology in New Jersey, tells The Zoe Report. First and foremost, UV light damages collagen and thins the epidermis, leading to thinner lips and fine lines. "Second, spots called actinic cheilitis can arise and sometimes turn into particularly aggressive squamous cell carcinomas," he says. Roughly translated: The risk of skin cancer is real. "Skin cancer on the lip can actually be more aggressive than other areas," Dr. Ronald Moy, a dermatologist and the founder of DNA Renewal, adds in an email to TZR.
"Of more immediate concern is reactivation of the herpes simplex virus which can result in a cold sore breakout," Dr. Geria says. And of course, there's the always slightly-less-serious consequence of sunburned lips — basically, chapped lips on steroids. The solve? A lip product that comes with a side of Sun Protection Factor; preferably one you like enoguh to reapply over and over and over again.
When it comes to SPF-rich balms and glosses, you have two choices: Products made with mineral sunscreens (zinc, titanium dioxide) or products made with chemical sunscreens (most commonly, avobenzone, oxybenzone, ensulizole, and octinoxate). "Both are good for the lips, although mineral may be longer-lasting," Dr. Moy says.
For those worried about accidentally eating your sunblock — it's been estimated that the average lipstick-wearer consumes anywhere from four to seven pounds of lipstick over their lifetime — Dr. Moy maintains "there is no scientific evidence that ingesting sunscreen ingredients is harmful." If you want to stay on the safe side (or if you have sensitive skin), Dr. Geria recommends sticking to mineral-based products. "Zinc oxide and titanium dioxide are inert, which means they won't have any biological effect if ingested," he says. "With chemical ingredients, there is a theoretical risk of hormone disruption and allergic reaction but this ... has never been reported in the dermatology literature."
Ahead, meet your new summer skincare staple. These 20 lipsticks, lip glosses, and lip balms with SPF have you covered in every sense of the word.
We only include products that have been independently selected by TZRs editorial team. However, we may receive a portion of sales if you purchase a product through a link in this article.
This article was originally published on