14 Black Lipsticks For Halloween — & How To Wear Them Long After
Christopher Polk/Getty Images for WESTBURY ROAD ENTERTAINMENT LLC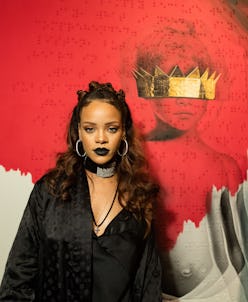 If you're a procrastinator, you're probably trying to pull a last-minute Halloween costume together as we speak. Sure, you could team your classic LBD with a strand of pearls and go as Audrey Hepburn, or don that sequined sweatshirt in the back of your closet and call yourself a disco ball. Where's the fun in that, though? As an alternative, opt for a swipe of black lipstick for Halloween to get in the spooky spirit — which, in theory, should be the easiest option.
But the challenges of pulling off black lipstick are many: figuring out which shade of black is right for your skin tone; finding a black lipstick that won't dry out your lips; setting it so that it doesn't smear all over your face (as you nibble on yet another mini Snickers bar).
It all starts with figuring out the right shade of black for your skin tone. "The lighter your complexion, the darker you can go," Gilbert Soliz, a Global Makeup Artist for Marc Jacobs Beauty, tells The Zoe Report. "If there's more depth in your skin, that indicates you would benefit from a deeper berry or eggplant tone." A true black, like MAC's In The Spirit or Dior's Ultra Night 47, works well for lighter skin tones, while the purple-tinged Bite Beauty Matte Creme Lip Crayon in Black Truffle will pop against deeper complexions.
In addition to skin tone, you should consider how you want to wear black lipstick. "If you're going for a vampy look, go with a purple undertone," makeup artist Amber Amos tells us, like Givenchy Rouge Interdit Vinyl Color Enhancing Lipstick in Noir Revelateur. "If you're going for a goth look, try a more blue undertone." Bite Beauty Amuse Bouche Lipstick in Squid Ink is the perfect navy-meets-midnight shade to bring out your inner Wednesday Addams.
Next is prep. "Exfoliate and hydrate," Nina Soriano, a makeup artist whose work regularly appears in Elle and Harper's Bazaar, tells TZR. "When using a high pigment product of any color, it's important to first take the time to gently exfoliate the lip, and then add lip balm to moisturize your lips." Give the balm a few minutes to sink in before adding any color.
You can always use a dark black lip liner to fill in your lips first, but a long-lasting black eyeliner may actually be your best best. "Fill in your entire lip with a long wear black eyeliner," Alexx Mayo, Mariah Carey's makeup artist, advises TZR readers. "Really take your time creating the shape you want to achieve."
Once your lips are fully lined, go in with your preferred shade of black lipstick. Soliz swears by Fenty Beauty's recently released Stunna Lip Paint in Uninvited — "It's a long wear matte black that's like Halloween, but fashion" — while Amos cites the affordable CoverGirl Katy Kat Matte Lipstick in Perry Panther as a moisturizing option that "has a more satin finish but also great pigment."
"Should you decide to pick a matte tone, don't forget that a little lipgloss can give it more dimension and alter the tone of your lipstick," Soriano advises. A touch of Bite Beauty French Press Lip Gloss in Black Coffee on the center of your bottom lip will add shine — and make your lips look a little plumper, too.
To keep your black lipstick in place all party long, make sure to clean up the edges with concealer. This will define your shape and keep the color from bleeding past your lip line. One final hack for last-all-night lips? "Press a deep black eye shadow on top for a super matte black lip," Dillon Pena, an editorial makeup artist, tells us. "If you'd like to add sheen to the black lipstick, use a black metallic eye shadow instead."
That being said, "There's really only one rule," according to Soliz. "Wear it with confidence."