These Products Are The Perfect Cure For Chapped Lips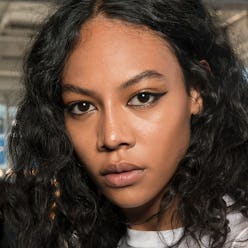 We don't know about you, but with winter in full effect, our go-to lip balms just aren't cutting it anymore—and the worst part is, nothing ruins a makeup look like chapped lips. Because nobody likes applying (and reapplying) lipstick over a dry, cracked pout, we're sharing our best tips for reversing the damage. Ahead, your ticket to softer, more hydrated lips (and, in turn, better-looking makeup), no matter how cold it gets out.
Kiss Kiss
Step 1: Scrub (Gently)
Get rid of flakes by buffing lips with a sugar scrub to slough away all traces of dryness. A bit of advice: Be gentle when exfoliating, or you might exacerbate the issue. This scrub contains brown sugar and pineapple enzymes for a deeper exfoliation and sunflower oil and agave to nourish lips.
Step 2: Swap Your Balm For Oil
Waxy balms can often sit on the surface of the lips. While they might be soothing, they're not actually treating the dryness. Opt instead for a lip oil that penetrates beyond the top layer and revitalizes them from the inside out.
Step 3: Keep Them Hydrated
Find a creamy lip balm that works and apply it compulsively. Keep it within arms reach and your lips will be back to their healthy state in no time.
Step 4: Prep Your Lips For Absorption
You may have tried micro needling to get your face ready to soak up extra moisture. Thanks to this lip-sized version, you can do the same for your pout. Roll it across your lips in both directions and follow with a lip balm for the most hydrated pout ever.
Step 5: Hydrate While You Sleep
Sleep masks may be a familiar concept for your face, but this product was made with your mouth in mind. Apply to lips before bed, and they'll feel like silk by morning.