111SKIN Just Remixed Its Fan-Favorite Products With A New Breakthrough Formula
Take an inside look at the technology.
@111skin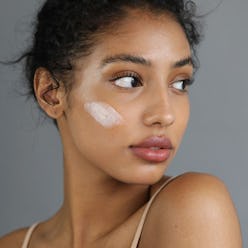 We may receive a portion of sales if you purchase a product through a link in this article.
The best beauty brands out there aren't content to simply produce a product, send it out into the world, and start the cycle over again — they're continually re-configuring packaging, updating formulas in-step with the latest scientific breakthroughs, and incorporated user feedback into future iterations. That commitment to constant improvement is part of what makes 111SKIN such a respected skin care line among celebrities and civilian beauty-lovers alike. This month, the brand rolled out new versions of three best-sellers, all featuring upgraded encapsulation technology for more efficacious application. The 111SKIN product reformulations retain everything that's made the brand so beloved in the first place, but with a fresh focus on how those ingredients are actually delivered to the skin.
The way 111SKIN founder Dr. Yannis Alexandrides describes it to TZR, the decision to refresh some of the line's favorite products is almost a scientific responsibility. "Medical science and surgical techniques are constantly evolving, becoming more precise and deepening our understanding of the skin at the microscopic cellular level," Alexandrides, who has an extensive background in cosmetic surgery, explains. At the brand's namesake clinic, 111 Harley Street, Alexandrides and his team often take the research into their own hands, exploring new inroads to make their products more effective. In the case of the three latest reformulations — the Repair Serum NAC Y2, Day Cream NAC Y2, and Eye Lift Gel NAC Y2 — Alexandrides says that the technology implemented "enables a future-proofing of the skin and a slowing down of the aging process." By the brand's estimations, the new iterations are approximately four times more powerful than the originals.
Alexandrides and his team chose to focus on three 11-year-old fan-favorites from 111SKIN's Reparative collection for this refresh. The centerpiece of each formula is the latest form of niosome encapsulation technology, the chief change in all three products as well as the impetus behind them. Niosomes are microscopic molecules made of surfactants and cholesterols — they're incredibly important for the body's consumption of everything from skin care ingredients to medicinal injections administered by a doctor. By encapsulating their exclusive NAC Y² antioxidant complex in niosomes, that absorption is much deeper, four times as potent, and even allows for an extended-release model that keeps the active ingredients working within the skin for up to eight hours. The blend works its way past the skin's stratum corneum layer and even deeper into the epidermis where live cells live, Alexandrides says. From there, it encourages skin regeneration and, thusly, slows signs of aging.
Unsurprisingly, Alexandrides says these are far from the products to get an extreme makeover in 2023. The brand is already working on new updates, though keeping mum on exactly what to expect next. "Since I created the original Dramatic Healing Serum, it's always been about using my surgical expertise and understanding of three-dimensional healing of skin to create formulas that work at a deeper cellular level," he tells TZR. "The latest skin science and technology enables us to take these formulations to the next level."
Stars like Michelle Yeoh, Victoria Beckham, Gabrielle Union, and Dakota Johnson have all already bestowed 111SKIN with some glowing endorsements, but this latest breakthrough is sure to win over plenty more fans. Below, shop the newly-refined products.