This Matte Lipstick Is $10.49 At CVS & Comes In The Perfect Dark Red
Grosescu Alberto Mihai/Shutterstock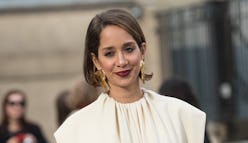 Anyone who's lost an expensive red lipstick in the shuffle between purses or kept the tube in a pants pocket (only to forget and throw the jeans in the washing machine) probably now keeps a dark red drugstore lipstick on-hand instead. Having a stash of affordable lipsticks that work lets you keep your pricier ones safe at home. Better yet, some of the best drugstore lipsticks have cult followings around their dark scarlet colors, with thousands of reviews agreeing the affordable lipstick gives them the perfect red lip.
Though taking the classic red shade darker in the winter pairs well with cold weather jewel tones, how deep you prefer your red lip is up to you. Both retailing at only $5.99, shades like the 107 color from Rimmel London's Lasting Finish by Kate Moss mix a true red with a pinkier, darker berry to create a dark shade that won't overwhelm, while the Milani Color Statement Lipstick in Black Cherry is a dramatically deep purplish red. Keep an eye on cooler and warmer undertones, too; you have your choice either way when it comes to dark shades.
Try Maybelline's SuperStay Matte Ink Liquid Lipstick in Voyager for a true burgundy lipstick. The lipstick has over 6,300 perfect reviews on CVS' website and will only cost you $10.49. Created to be intense, saturated, and long-lasting (promising 16 hours of wear), reviews say that the lipstick lasts through greasy snack foods and even showering. Fans also note that it's easy to pop on a gloss if you don't like matte lipsticks — the Maybelline formulation is worth the extra step.
NYX liquid lipsticks have long been touted drugstore liquid lipstick dupes for more expensive brands. The affordable brand's formulas are beloved for being incredibly matte, and the color range is wide and daring. For deep reds, try the NYX Professional Makeup Liquid Suede Lipstick in the shade Cherry Skies for $6.39 or the NYX Professional Makeup Soft Matte Lip Cream in Monte Carlo for $5.99. For the extra 40 cents, the Liquid Suede line has avocado oil and Vitamin E to help fight all liquid lipstick's infamous drying properties.
You'll be able to channel celebrity makeup artists red carpet looks when you use drugstore's darker shades. Next time you're at Target, pick up the sultry red lipstick Amber Heard wore to the 2018 Glamour Women Of The Year Awards. Aptly titled 'Divine Wine' — a glossy red with deeper, darker undertones — the L'Oréal Paris Colour Riche Lip Color shade retails for only $4.49. The lipstick has almost five stars on Target's website out of 625 reviews, too, with fans swooning over how easily the lipstick formulation glides on. So even if you don't have a professional makeup artist to apply it, like Heard, you should be just fine.
The best part of drugstore lipstick? The prices are so low you can just keep a tube of your favorite shade in every purse. Ahead, ten highly-rated dark red drugstore lipsticks under $10.