What Is Subjective Age? How One NYC Wellness Clinic Is Finding The Answer
Modern Age is looking to flip the script.
Lindsay Hattrick/TZR; Stocksy; Modern Age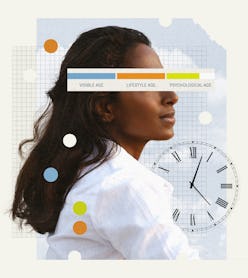 Last year, I turned 45. I hesitate to call myself "old," mostly because it reminds me of that scene in Sex and the City when Carrie turns 35 and no one shows up to her dinner party. Meanwhile, a fun party girl is turning 25 at the same restaurant and declares herself to be old, proving that what feels old is subjective.
Modern Age, an "aging wellness clinic" in New York City, would have you believe age itself is subjective. It's partially your typical medspa, offering familiar treatments like neuromodulators (Botox and the like), IV drip therapy, and PRP hair restoration. But its signature offering, which you could say also functions as its guiding philosophy, is something called a Subjective Age Assessment — an analysis that evaluates your psychology, lifestyle, and physical appearance in order to measure how old you perceive yourself to be. "Subjective Age is the age you feel," says Dr. Anant Vinjamoori, Modern Age's chief medical officer, "regardless of what's on your birth certificate."
As it turns out, that's a science-backed claim. "There is a growing body of research that shows lowering your subjective age leads to better outcomes including greater strength, better biomarkers for liver and endocrine function, and a more youthful brain," Vinjamoori says. "What we are seeing from these studies is that there is a direct correlation between subjective age and longevity." The idea is that it's better to be subjectively younger, which suggests your body is showing signs of aging more slowly.
I am a skeptical person by nature, so I asked another physician — Dr. Shirley Madhère, holistic plastic surgeon and founder of Jet Set Beauty Rx — if there was something to it. She pointed me to a 2018 brain imaging study published in Frontiers in Aging Neuroscience, which looked at 68 healthy adults who identified themselves as either feeling younger, the same, or older than their actual age. "The authors' findings showed that elderly individuals who perceived themselves as younger than their real, chronological age demonstrated more gray matter – more nerve synapses and connection – in their brain (that's a good thing!) as well as a younger predicted brain age," she tells me. "In the authors' words, their 'findings suggest that subjective experience of aging is closely related to the process of brain aging.'" Maybe you really are only as old as you feel.
I was intrigued by the real science and curious about my own subjective age — depending on the day, I either feel about 24 or 67. I think I'm healthy from a biological standpoint, but was I aging well? I am a chronically bad sleeper who works way too much. And those are just the things I am (painfully) aware of. What didn't I know about?
Which is how, on a recent afternoon in the comfort of my own living room, I was answering questions on my phone about exercise, such as, Do you walk for more than 10 minutes a day? (YES!) How many hours a week do you spend doing vigorous activities like jogging or tennis? (I lied and put 1.)
I had already uploaded a wildly unflattering selfie for AI analysis for things like lines, sun damage, and volume loss. Next, I moved on to another set of questions I felt I was failing at, including one about how many meals I ate in a week that weren't homemade. (I said 12, which was maybe too generous on my part. It might have been more like 17.) There were questions about bowel movements and blood pressure and depression and sleep quality and how many hours a day I spend sitting. I answered as honestly as I could. (Mostly.)
My subjective age was revealed to be 42 — younger than my actual age, but not as young as I'd hoped (the overachiever in me wanted to score more like a 37).
The next day I visited Modern Age's Flatiron studio, which had coffee table books (the artist Verner Panton was one) in the waiting room and a separate refresh area with fancy moisturizer and chocolate. I met up with Dr. Shoma Datta-Thomas, who was trained as an OBGYN with a specialty in fertility.
"I've done a lot of complicated surgery for endometriosis and infertility where I'd see inflammation of the organs up close. I'd then see patterns where lifestyle factors could affect outcomes in pain and recovery like diet, nutrition, mental health, and hormone health," she says. She didn't feel prepared to offer guidance to patients in these areas — diets and hormones and nutrition were all considered slightly more alternative approaches. "Once I saw these patterns continue as my patients started navigating perimenopause and menopause, both my patients and I were left with a lot of the same questions. I started doing more self-education with additional approaches like functional medicine and customized hormone therapy, and things started to click for me."
Looking young is so prized in our culture, which can make talking about age seem so fraught — particularly for women. But my conversation with Datta-Thomas was about making me feel (and look) better, not just younger. Age is about how you look, she said, but it's also about how you feel — your perception of yourself, your mood, and your connection to your community. It's complex. And, honestly, it's worth thinking deeply about well before you're of retirement age.
That said, I didn't exactly love the part when Dr. Datta-Thomas put my photos up on a large screen, making all my lines and less-than-taut jawline extremely visible. (Here, I wrote down in my notes: "My crow's feet are out of control.") Step one, we decided, would be some neuromodulators around my eyes and forehead to help those crow's feet be less pronounced. There were further options, depending on the time and money I wanted to spend: filler for my nasolabial area, or microneedling with PRP-stimulating collagen (sometimes called a vampire facial) for skin texture. IV therapy for stress might help my chronic insomnia, and I'd start on some new supplements, including a probiotic, resveratrol, and a fish oil.
So the next day I was back getting blood taken for a hormone diagnostic panel and general vitamin levels. Then, I got the Stress Blend IV Drip with a supercharged amount of vitamin C. Those IV drips aren't for anyone with needle phobias, or for anyone who's in a hurry. I was there for over an hour, though it was deeply relaxing. I answered emails and read a novel while lounging the whole time. At the end, I got some Botox and a prescription for a low dose of Tretinoin to apply at night for my (not so) fine lines.
I knew a few hours of pampering on a Friday morning made me feel good, but was there anything more to it? I called Dr. Azza Halim, who is a board-certified multi-specialist physician. "The concept of subjective age is nothing new actually — it's how old one perceives themselves to be, whereas biological age is more dependent on one's genetics," she says. Tools like photos and questionnaires are used in many clinics — along with lab tests — to determine a treatment plan for similar procedures, such as chemical peels, lasers, injectables, and IV therapy. They're just another way to collect as much data on a patient's lifestyle, skin care regimen, and past procedures, she adds.
It's true: When I've experimented with Botox and lasers at other medspas or doctor's offices, I've certainly had to take photos and fill out questionnaires. (Maybe they're not called Subjective Age Assessment, but a rose by any other name!)
Then again, those questionnaires weren't as comprehensive as the ones at Modern Age. They also didn't really address how my body was actually functioning, which is why I followed up with Dr. Datta-Thomas via Zoom to go over my blood work. "All good news to report!" she trills. Not to brag, but my creatinine for kidney function, cholesterol levels, blood sugar were all in the extremely healthy range. Awesome. My vitamin D levels were low, as was my testosterone. Her suggestion was a prescription for a testosterone cream that might help energy and libido; an oral supplement or weekly injection of vitamin D, a Phytisone supplement to support adrenal glands and stress hormones; and more IV therapy for stress.
I was on board for as much as I could easily afford (Botox, some prescriptions, supplements: yes; fillers, microneedling, IV drips: out of my league for the moment). Dr. Datta-Thomas encouraged me to check in after a couple months to retake my bloodwork and see how I was feeling.
Modern Age is essentially a med spa with particularly good branding and really well-trained employees, which I mean as a compliment. I felt not perfect, but better. In photos, I looked less haggard and wrinkled. My skin was glowing. But I was also sleeping as poorly as ever and still occasionally ate a donut for breakfast and definitely hadn't taken up any cardio.
A month after my treatments, I took the Subjective Age Assessment again. This is something they encourage in order for clients to understand how the steps they are taking impacts them over time. I got 42 again. My subjective age was the same as when I started. Was I a failure at aging in reverse? Then again, who cares what the tests say? I thought I looked better, and I know I felt better. And isn't that what subjective aging really means, anyway?