If You're Looking For A Fresh New Workout, Tracy Anderson's Latest Program Has You Covered
Fitness just got personal.
MYMODE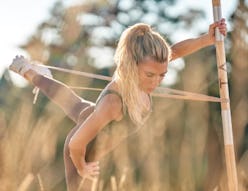 If you're looking for a new, more personalized way to work out, Tracy Anderson may have the answer for you. The fitness entrepreneur and author just released MYMODE Elect, the latest extension of her buzzy MYMODE Program. If you're not familiar with the latter, it's a workout series (that launched in September 2022) built around a "multifunctional staff, mat, disk, multi-port anchoring system, and multidimensional workout platform, with custom sets of weights and resistance bands," according to the site. The trainer designed the buzzy program (which touts thousands of movement algorithms) to reach the deepest layers of the muscles "for all-natural, all-powerful results." And the latest Elect option, allows for an even more customizable experience.
With MYMODE Elect, you have the option to purchase individual bundles that, all together, create the entire MYMODE apparatus system. However, with said bundling, consumers are able to pick and choose the packages and equipment that best suit their bodies and fitness goals, and avoid those that they don't need.
MYMODE Elect is a program designed for Online Studio + TA Live subscribers and includes content specific and exclusive to each bundle. Said content, led by Anderson herself, is released weekly in the Online Studio. If you are a subscriber already, you can upgrade your membership to include TA LIVE in order to access MYMODE Elect content.
There are four variations of the MYMODE Elect bundles, which include:
The Hand & Band Bundle: $399
With The Hand & Band Bundle, you can take MyMode on the go with custom hand weights (3 lbs. each) and four resistance bands.
The Staff & Puck Bundle: $549
To work on upper body strength, and practice deep lengthening exercises, opt for The Staff & Puck Bundle, which includes — that's right — a staff and a puck with a staff socket.
The Box Bundle: $1,599
The Box Bundle includes the multileveled platform box and knee pad. With three height levels, you can try out various intensities of multidirectional movement.
The Key Kit: $749
After you've purchased all three bundles, The Key Kit is the final step to unlocking the full MYMODE experience, complete with a set of ankle weights and two attachable staff weights, as well as an organic MYMODE towel. This kit also provides you with total access to all MYMODE content in the Online Studio.
So if you're looking for a new way to up your fitness in this new year, MYMODE Elect is definitely a great option.