Rachel Zoe's Guide To Remaining Calm
Learn how our founder and forever style icon manages her busy lifestyle.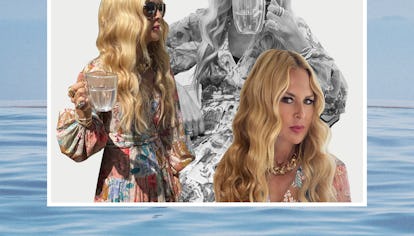 For decades, Rachel Zoe has been the ultimate fashion insider. Now, she's the definition of a multi-hyphenate. With her many titles — mom, CEO, investor, advisor, founder, to name a few — Zoe is always innovating. But constant creation, though fulfilling, is also demanding. "My life can be very, very stressful at times," she tells TZR. "Every working and non-working mother knows how challenging it is to manage it all."
Since Zoe is no stranger to stress, she looks to Natural Vitality CALM® Raspberry-Lemon flavor drink mix daily for help coping with everyday stresses; the daily magnesium supplement serves as an effective way to release tension when integrated into a daily routine. "Finding calm moments is crucial for my mental health," she says. "It's vital for everyone to be able to step back and recharge themselves. When I am calm, I am a much better version of myself for my family and my team." And as someone who doesn't ever stop, a clear mind is crucial.
Between leading the CURATEUR team, recording new episodes of her podcast, and taking investor calls, Zoe's schedule is always jam-packed. But for her, it's just another day in the life. Here, get a glimpse at how TZR's founder and forever style icon stays stylish, successful, and (most importantly) calm when things get busy. (But really, when aren't they?)
FROM A.M.
Unsurprisingly, no two days are ever the same for Zoe. Her sons, Skyler and Kaius, act as her alarm clock, waking her up between 5:30 and 6:00 a.m. and her first key to a calm day is immediately set into action: "I really try to keep the mornings focused on my children," she says. "I enjoy making them breakfast and asking them about their day ahead. If I try to jump into work before they are out of the house, I know my attention will split which causes stress for me."
After packing lunch and getting them out the door to school, Zoe takes a quick (emphasis on "quick") few moments for herself: a brief shower and 5-minute hair and makeup accompany checking for any urgent work emails.
TO P.M.
In a day packed with back-to-back calls, staying relaxed is key to Zoe maintaining her focus. "I like to enjoy Natural Vitality CALM® during the afternoons," she says, noting the importance of managing stress in order to stay motivated until she completes her day around 6 p.m. She likes to enjoy the Raspberry-Lemon beverage outdoors around 3 p.m., when that midday slump typically hits.
"I feel very grateful that I live in Los Angeles, where the weather allows for outside time year round," she says. "It's perfect when I know I'm balancing finishing what I need to for work and my boys returning from school. It's such an amazing reset and gets me centered and restored."
As Natural Vitality CALM® helps ease Zoe's tension, she's ready to start the second half of her day. When she doesn't have a work event in the evening, she enjoys time at home with her husband, Rodger, and her boys. After making dinner, giving her kids a bath, and getting them to bed, she typically jumps back on her computer to get through the remainder of her emails (though there's never enough time in the day to read and answer them all). "We all know at this point to avoid screen time right before bed, and I need to be better at that," she says. Though Zoe is the first to admit she "isn't a great sleeper" — she tries to be asleep by midnight — she does practice little moments of self-care, like doing a hair or face mask, to de-stress. "I also enjoy showering at night to calm down, and I usually sleep better."
Though she's non-stop from the second she wakes up to the second she turns the lights off, Zoe thrives on being busy — especially when she's able to keep calm through every day's moments of stress with the help of Natural Vitality CALM®. "The days are long," she says, "but I wouldn't have it any other way."