Postpartum Care Centers Are All Over Asia, & The US Is Following Suit
75% of delivering women in South Korea utilize these facilities.
getty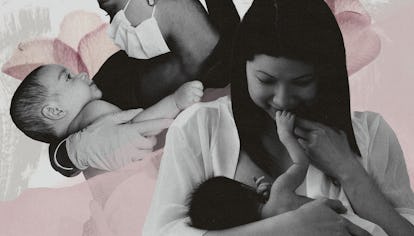 When Mariann Yip, a lifestyle blogger and first-time mom got pregnant, she was most anxious about giving birth. Like many women pregnant for the first time, Yip didn't know how labor would go, for how long, and what the pain would be like. But after her baby was born, Yip soon realized that the hardest part was yet to come: The fourth trimester. "I was so focused on my birth experience that I did not think about what recovery would be like," Yip tells TZR. "My baby's now three months, but the first month was extremely taxing mentally, emotionally, and physically."
Beginning after the delivery of the baby and usually lasting between six and eight weeks, the postpartum period is a challenging time for moms. They are often juggling physical recovery, maintaining their mental health, and taking care of a newborn, underscoring the importance and need for support during this time period.
Unfortunately, America's postnatal care practice is minimal to nonexistent, according to Caroline Cusenza, LM, CPM, a licensed midwife at the Monterey Birth Center in California. The vast majority of women in the US, 98.4% to be exact, give birth in hospitals. Once the baby is born, if there are no complications, mom and baby are usually discharged 48 hours after delivery. "You go home, you see a pediatrician for the baby, but no one checks on the mother," says Cusenza.
Because recovery is a taxing process on mothers' physical, mental, and emotional well-being, the postpartum period warrants ample rest. Some women may experience mild to extensive vaginal tears during delivery, which can take a few weeks and even months to heal, bloody discharge that often resolves in the first three to four days post-birth, and one in seven women can develop postpartum depression.
Post-birth, Yip felt drained and alone, but that all changed when she found Boram, a New York-based postpartum retreat. Inspired by South Korean birthing culture, the facility is paving the way for more intensive postpartum care in the United States.
What Does A Postpartum Retreat Entail?
Opened in 2022, Boram was founded with one key vision: To make postpartum care an essential part of the healthcare system in the United States. With a stay at Boram — which can span between three to 31 days — mothers get to focus on recovery all while transitioning to parenthood.
"What we do is provide 24/7 individualized care for mothers post-birth, zero to six weeks postpartum," says Allison Bader, Boram's marketing director. "And what that really means from an individualized care perspective is that we are supporting moms however they need support, so whether that's help breastfeeding, latching; we have some moms who choose to formula feed, bottle feed, and we help them with that as well."
In addition to lactation support, the all-inclusive retreat offers an around-the-clock care team for mom and baby, a mother's lounge, recovery support, nutritious meals, therapeutic services, a 24-hour baby room, and educational workshops.
Yip recalls the best part about her stay at Boram was the 24/7 nursery. "During the third week, I needed help desperately [with my new baby], and that was the same week that my partner went back to work," Yip shares. Instead of losing sleep, Yip confided in the nursery to take care of her son during nights when he became fussy. "They [Boram] are able to take your babies for the night [while the mothers rest at Boram], or if you need just a break through the day, any hour, they are only a text away," she adds.
Boram also employs a team of trained and licensed professionals (think: registered nurses, lactation consultants, certified doulas and nursing assistants), as well as an external network of trusted resources like psychologists, pelvic floor specialists, body movement and exercise experts, and pediatricians to ensure mothers have the support they need.
While Boram may be one of the first postpartum retreats to enter the U.S. landscape, there's more coming. Ahma & Co, a postpartum retreat for mothers and babies to bond and recover, is opening up this spring in New York. Also inspired by South Korean holistic care practices, Ahma & Co will offer expert help, curated education, and spa services. Additionally, MotheRetreat, a Hallandale Beach, Florida-based organization offering prenatal and postpartum services, hopes to host a postpartum retreat in the future, according to Olga Proskuryakova, a birth and postpartum doula.
Rooted In Korean & Chinese Traditions
While it may seem like a new concept to have all-inclusive retreats and care for post-birth families, Boram's offerings are actually nothing new in Asia, particularly the aforementioned Korea and China. In fact, Bader says that Boram was influenced by sanhujoriwons, Korean postpartum centers. "This is a very common concept in Korea where families will go to these postnatal [centers] and just rest, recover, and restore," says Sarah Mallin, Boram's director of operations.
Boram all started because Boram Nam, a Korean mother and co-founder of Boram, couldn't find support post-birth. "Boram had an experience postpartum where she struggled here [in the United States] and saw all of her friends going to these retreats and was like, 'What's going on? Why don't we have this here in the States?' And then came her vision to create them," says Mallin.
According to the World Health Organization, the post-birth period is regarded as the most critical time for moms and babies for staying healthy for the rest of their lives and according to research, many Korean mothers choose to stay at sanhujoriwons. In 2018, 75% of delivering women in South Korea utilized these facilities.
At sanhujoriwons, mothers are provided hotel-like services; they receive massages to destress, healthy meals and snacks, such as omega-3 fatty acid-rich seawood soup, and are given daily stretching and exercise routines.
The difference between postpartum care centers in America and Korea is that it is uncommon for Korean mothers to room with their infants because many mothers view their postpartum stay as an opportunity for rest and recovery without parenting responsibilities. Mothers may utilize caregiving services or "baby rooms;" however, rooming in is not currently the norm within sanhujoriwons. For the 3% of postpartum women who roomed in with their infants in 2018, the average time spent was roughly 4.2 hours. To encourage bonding, Korea's Ministry of Health set new rules for mothers and babies to share rooms, according to reporting conducted by Reuters.
This is contrary to the experience of mothers at Boram. Every mother utilizes the nursery rooms differently but "most stay with their babies all day and night and only send in [to caregivers] between feeds if they [mothers] need to rest, especially when breastfeeding," says Mallin. "We definitely create an environment to optimize bonding and rest and recovery."
In China, the same postpartum practice is known as "doing the month" or confinement — which lasts between 30 days and six weeks, according to Pengfei Guo, MBBS, a Ph.D. candidate at Yale University's School of Public Health. Unlike sanjujoriwons, which are postpartum retreats held outside of the home, confinement is a period of rest and recovery at home. During this time period, Chinese postpartum women are cared for by family, a confinement nanny, also known as pui yuet, or postpartum doula. During this time, the confinement nanny helps the mothers with their physical needs, be it breastfeeding, body wraps, massages, preparing nutritious meals, or lessons to care for the baby, and mothers are expected to follow a strict regimen for diet, hygiene, and social practices that are aligned with Chinese cultural values.
For example, Chinese mothers are advised to avoid consuming spicy foods, brushing their teeth, and bathing in and drinking cold water. Guo says these practices are rooted in ancient tradition. For example, due to limited access to water and hot water, mothers were asked to refrain from brushing their teeth or taking hot showers. While some of these practices are not supported by research, Chinese communities have followed these traditions for millennia. These practices (for example, avoiding overly hot and cold foods) are rooted in Traditional Chinese Medicine and "actually can be dated back more than 2,000 years ago in the West Han Dynasty," says Guo.
Benefits Of Postpartum Care
Research shows that having continuous support, such as that offered at postpartum care centers and retreats, is paramount to both new mothers and their babies. For example, mothers who were supported by a doula rated childbirth as less difficult and painful compared to women who were not supported by a doula. Postpartum support has also been associated with decreased symptoms of postpartum depression, improved self-esteem, and confidence in breastfeeding, and an increase in mothers' sensitivity to their baby's needs.
In America, it's not uncommon for mothers to return to work at the speed of light. In fact, one in four women returns to work within four weeks of giving birth. For Nam, she was back at work remotely the day after she gave birth. This is contrary to what the American College of Obstetricians and Gynecologists (ACOG) recommends — women are advised to take at least six weeks off of work.
The Cost
As a lifestyle blogger, Yip was able to review her stay on her blog in exchange for a stay at Boram. However, postpartum care centers generally cost a hefty penny, regardless of geographic location. At Boram, a one-week stay clocks in at $5,900 without insurance, averaging $843 per night out of pocket. Depending on an individual's insurance plan, some of Boram's services like lactation counseling, educational classes, and anything non-medical are covered by insurance, but most plans don't cover a mother's entire visit.
"Even though most of the services that happen at our facility are covered by insurance, it's just been a challenge to get everything comprehensively included," says Bader, Boram's marketing director. Since insurance companies don't cover all of the postpartum services, Boram sends guests an itemized bill, which can then be sent to insurance companies for reimbursement.
A two-week stay at a Korean sanhujoriwon in 2022, both public and private, can run the bill at 3.07 million won, which is equivalent to roughly $2,294. If you decide to tack on more services, like a postpartum massage, the cost of stay is often higher, adding to your total out-of-pocket costs.
For postpartum mothers in China, a one-month stay can retail a whopping $11,000 per month. Guo shares that Chinese women staying at a postpartum center must pay out of pocket.
Prices at postpartum care centers have skyrocketed in recent years. For example, sanhujoriwons in Seoul surged from 3.17 million ($2,372) to 4.1 million won ($3,068) in the same year, making postpartum care centers accessible only to wealthy families.
The Future Of US Postpartum Care
As it stands, there is minimal to no postpartum infrastructure for moms and moms-to-be in the US, and because Boram employs nurses, postpartum doulas, and highly-specialized professionals to provide 24/7 care to mothers and their newborns, the $5,900 price tag for a weekly stay at Boram is unattainable for most.
"What happens if you don't make it [postpartum care] accessible to everyone is that it's just the rich people getting access to the service when everybody deserves it," says Cusenza.
But Boram is committed to making it more accessible for all in the years ahead. Bader and Mallin remain hopeful that Boram's retreats will be covered completely by insurance. Boram is also partnering with nonprofits to gift stays to moms who really need them. "We still do not have any partnerships finalized, but we would be working with populations that wouldn't have access to our services otherwise," says Bader. "And we are in conversations with some other companies who are looking to help fund their employees' stay," adds Mallin.
As funding rolls in, Boram is looking to expand to other cities. Currently, Boram offers in-person service in New York and an online program with educational and emotional support, says Mallin.
During Yip's stay, she received one-on-one sessions for babywearing, how to breastfeed, gas relief, and learned positions to soothe fussiness. Learning these skills prepared Yip to take on motherhood and transition from Boram to a new life at home. "All of these were hands-on, which gave me skills that I could take home and use when necessary," she tells us.
"Because my experience [at Boram] was so positive, I would love for any other mom to have the same positive experience that I did. And even now that I've left them, I'm still in contact with them. They're still so supportive," says Yip. "They always say it takes a village to raise a child, and that could not be more true."