Menopause Retreats Are On The Rise
Here's what to know before you book one.
Shutterstock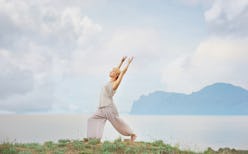 Since crossing into my late 30s, my social media algorithm has been serving me tons of content about aging, including reels and TikToks about perimenopause and the menopause stage of life. While it may seem a bit early for me to be targeted for this type of content, it's a fact that many women (including actor Naomi Watts) start having symptoms around my age. And the as the topic of menopause continues to bloom and become more catered to by the wellness and beauty space (the global menopause market hit $15.4 billion in 2021 and is slated to reach $24.4 billion by 2030), it seems the travel industry is also taking notice. In fact, perimenopause and menopause retreats are officially on the rise, including with major wellness players, like Goop recently hosting a $1,600-per-person immersive retreat all about hormones at its Santa Monica headquarters and Amilla Maldives relaunching its Pause Retreat curated to offer menopause-focused programming to help women manage symptoms.
Dr. Heather Hirsch, M.D., founder of Health by Heather Hirsch, which offers an online six-module "Reclaiming Menopause Masterclass," and author of Unlock Your Menopause Type, also attributes the trend to the pandemic and social media "fueling" the peri/menopause movement. There are hundreds of thousands of infographics and videos spanning Instagram and TikTok, with women sharing their experiences (many full of humor) in curated content and in the comments on the posts, building communities and safe spaces to keep it real about aging.
"Women have bonded in these groups and now want to be inspired by being together in person," Hirsch shares. (She also notes those between 45 and 55 tend to have more disposable income and older children, which makes it possible to make time for their well-being.)
Traveling with rest, relaxation, and wellness in mind sounds like the ultimate trifecta of taking control of your health and, in this case, your hormones. But it also raises the question: How can you discern what is worth the financial investment and not crafted to separate you from your hard-earned money sans the claimed benefits?
For example, the Wise Women Retreat at Canyon Ranch Berkshires offers a five-day retreat hosted by OB-GYN Dr. Robin Noble, featuring one-on-one consultations alongside group sessions on how hormonal changes impact mood, sleep, bone, and cardiac health. Additionally, Miraval Arizona offers women-focused workshops like Mindfulness & Pleasure: Women, Sex & Desire or Pelvic Floor Wisdom, led by integrative health specialist Lyndi Rivers, in addition to private sleep coaching sessions with the resort's resident sleep and dream specialist, Leah Ann Bolen.
Each retreat notes the end goal is to provide retreaters an opportunity to reset and learn to move through these life changes with impactful education and grounding practices that can be incorporated into their daily lives. With loads of information (and misinformation) floating around on social media platforms and Google searches, it takes work to figure this out. For that reason, we chatted with three experts to get guidance on what to consider when planning a perimenopause/menopause-focused wellness getaway.
Do Your Homework
Hirsch says reading evidence-based public papers that share menopause recommendations at The Menopause Society is a great place to start. "For example, the menopause society has 'Meno-Notes,' where women can read the most up-to-date patient-facing notes and recommendations," Hirsch shares. "Know[ing] what is evidence-based and what the 'first line' treatments are is vital in spending money and time (resources) wisely. Finding a credible doctor to follow can be helpful."
OK, but what are "first line" treatments? These are clinically tested, FDA-approved medications prescribed by your doctor. So before you book that retreat or solo service, making promises to "balance your hormones," make time to chat with your doctor. "Anything that sounds too good to be true probably is," Hirsch tells us. "If there were a miracle out there, I would be the first to know about it."
Additionally, Hirsch notes balancing hormones is a "fallacy." Why? "Because hormones are volatile in nature — and even more so in perimenopause," she tells TZR. "Hormones actually do a dance (when one is up, one is down, etc.). Postmenopause, all hormone levels are low and don't need to be balanced. This type of phrasing should alert the woman to the idea that whatever they are offering is likely to be snake oil."
Lean Into Community-Building
Andrea Hill, a holistic nutritionist based in the Cayman Islands, recently curated a session at the Kimpton Seafire Resort + Spa Wellness Festival (which will be returning in October 2024) titled Mastering Your Hormone Health From PMS to Menopause. She found that many women who attend these retreats are simply looking to better understand how their hormones impact their bodies.
"There are so many women out there who feel like they are going insane, and they don't understand why it's happening or what they can do to support themselves," she explains. Learning in this setting, she says, makes everyone feel a sense of community. "When you can look around a room and see how many other women have shown up to get educated, we naturally feel connected to each other and no longer alone in this."
Stacian Watts, psychotherapist and founder of Toronto-based Watts Psychotherapy, says community-building is essential in a society that has long been unable to muster the word menopause (instead calling it "the change"). "I cannot stress the importance of community enough, particularly around topics that have been historically taboo [or] stigmatized," she tells TZR. "Connecting with others going through similar changes and sharing your shared experience can make you feel less alone, affirmed, seen, and justify an experience many people go through."
OK, I'm Ready For A Retreat — Where Do I Start?
Hill shares hot flashes, brain fog, weight gain, poor energy, and sleep disturbances are a few of the many symptoms that can disrupt the quality of life for women during peri/menopause. Stress, anxiety, and mood changes are also known to crop up. But that doesn't mean hope is lost. "Little tweaks to your diet, exercise approach, bedtime routine, and supplement schedule can have a major impact during this transition," Hill tells us.
Can you get all of that checked off in one getaway? Probably not. But clinical evidence tells us sleep disruption, in addition to stress and/or anxiety (which are both hot flash triggers) are often the most reported symptoms of menopause (with hot flashes taking the top spot). So, let's start there.
Because long-term stress is disruptive to our hormones and can play a significant role in how our bodies react during peri/menopause, Watts recommends booking any mindfulness practice (think: meditation, yoga, and breathwork) to help soothe the nervous system and can be easily applied to your daily home routine. Though this experience isn't explicitly designed for peri/menopause, Destination Kohler, nestled just an hour outside of Milwaukee, offers three to five-day retreats featuring yoga on the lake, meditation workshops, forest bathing, acupuncture, and hydrotherapy treatments. (A small study published in the peer-reviewed BMJ Medical Journal conducted over five weeks with 70 women experiencing moderate-to-severe menopausal symptoms suggested acupuncture reduced hot flashes, night sweats, mood swings, and sleep disruptions.)
Unfortunately, you can't take the state-of-the-art Kohler amenities home with you. But yoga, meditation, and spending time outdoors are tangible souvenirs you can pack in your well-being toolkit to apply in your daily life. Oh, and if forest bathing sounds like pseudoscience, studies have found it can help with blood pressure reduction (a condition that can worsen for Black women during menopause), depression, and improving mental health.
Alternatively, wellness mainstays like Canyon Ranch offer six-day Immersion Retreats curated specifically for women experiencing menopause using research-backed science that gives participants access to doctors and health specialists along with services like acupuncture, a mental health and wellness consultation, and even a sleep screening that uses a one-time use FDA-approved portable sleep device to determine periods of apnea and wake/sleep states. The next day, a physician will review the results of your sleep screening test with you and make treatment recommendations.
The Canyon Ranch program also offers group sessions featuring experts like pelvic health specialist Julie Sarton, OB/GYN and author Jen Gunter, along with former co-host of What Not to Wear Stacy London, who has championed open dialogue around menopause for years.
For more flexibility in planning your dates and experiences, The Lodge at Blue Sky, Auberge Resorts Collection lets you curate a trip with everything including soaring yoga, sound baths, silent meditation hikes, and a chakra sleep ritual that helps you create a successful bedtime ritual at home.
For wellness by the sea sans a long-haul flight grounded in centuries-old tradition, the Muluk Spa at Hotel Xcaret Arte also provides an opportunity for you to curate your own experience. In contrast to more Westernized treatments, the spa offers services inspired by Mesoamerican cultures, like the Temazcal bathing ritual and Kakaw Wrap, each curated to encourage a mind-body connection.
No matter where you are on your peri/menopause journey, gaining fact-based insight on your hormones, building community, and learning to manage stress while mindfully caring for your body are always worthy additions to add to your daily life and travels.