Celebrity Trainer Megan Roup Says Her Secret To Good Health Is Doing Less
How she freed herself from years of rigorous workouts and yo-yo dieting.
@meganroup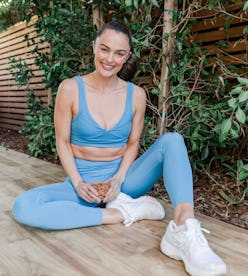 Sometimes it's the smallest changes that can make a big impact. This rings especially true when it comes to one's health. In TZR's series Step-By-Step, tastemakers speak to the minor moves that can lead to mighty changes.
When it comes to living your healthiest life, celebrity fitness guru Megan Roup is far from an extremist. "It's about putting in the work to really understand yourself, your body, and what makes you feel your best," explains the pro. Roup originally founded The Sculpt Society (TSS) in 2017 as a brick and mortar fitness studio in New York City and then, in 2019, she launched her app. The program, designed to make working out feel more like fun than, well, work features an array of exercise options for all fitness levels from dance cardio (the studio's hero class) to low impact mat work.
If you follow the LA-based pro on Instagram or TikTok you'll see that Roup not only shares live workouts and reels featuring moves from her beloved TSS workout (with celeb clients like Miranda Kerr and Karlie Kloss often making appearances), but also tips on food and overall body and mind health. Part of Roup's appeal that sets her apart from the other Insta-famous trainers and fitness pros is her realistic approach to wellness — she's all about a balanced lifestyle sans rigid rules. In fact, her key piece of sage advice is this: Stop doing so much. "As I've gotten older, I've realized the power of less," she says. "I always say, commit to less so that you can show up more."
TZR caught up with Roup in Cabo San Lucas, Mexico where she was celebrating an exclusive digital partnership with Las Ventanas al Paraíso, a Rosewood Resort (which runs through the end of 2023). "I love the idea of having The Sculpt Society app available in-room, because when you're traveling, it is really hard to [get] motivated, and the last thing you want to do is go to a hotel gym," says Roup.
As it happens, Roup's journey with TSS has always centered around making fitness enjoyable and manageable, much of her inspiration coming from her own negative experiences. "My perspective in my early twenties was that I needed to do hours a day of rigorous exercise and that I needed to be eating a very restrictive diet," she explains. That's a big reason she created TSS — as an alternative to that obsessive culture. Unlike other workouts that teach intense, advanced choreography and require intimidating and expensive machines, her 10-minute to one-hour sessions are very beginner friendly. "I just felt like there was a more inclusive, joyful way to do it; a way that everyone could come in, feel successful, and provide a valuable workout that wasn't hours long," she explains.
The pro's present day philosophy revolves around a flexible weekly schedule that doesn't feel overwhelming. She believes in and practices a few key principles: workouts can still be effective if they're under an hour, take one to two rest days a week, and move your body daily — even if it's just a meditation or a walk around the neighborhood. "You can get amazing results by doing less, and really just continuing to show up every day in small chunks of time." On Roup's app you can mix and match workouts that range from 10 to 60 minutes, depending on your schedule, mood, etc.
A typical workout week for the trainer looks a bit like this: Monday could be a 30-minute low-impact sculpt class, Tuesday, a 30-minute full body (with a dance cardio warmup), Wednesday, a walk outside or meditation, Thursday, if she's up for it, three 10-minute workouts that can include core, arms, and booty, and Friday, if she's "feeling energized for the weekend and wants a more challenging workout," she'll do a 45-minute full body session. Saturday might be a day off. "I'm a big advocate for a rest day, one to two at minimum." And then Sunday, she recommends "repeating one of the videos that you really loved from the week."
In the same vein, Roup has a refreshingly relaxed approach to food. "It's a lot simpler than people want to make it out to be and it doesn't have to be overly complicated." She's always striving to eat whole, unprocessed foods, but also stresses listening to the body. "I struggled so much with yo-yo dieting and binge eating in my early twenties and it wasn't until I discovered intuitive eating that things really shifted and I was able to experience food freedom." Intuitive eating to her, she explains, is about trusting when she's hungry, when she's full, not labeling anything as good or bad, and truly allowing herself to enjoy food.
"Not only do I look better, I feel so much better and I don't have those intrusive thoughts." On a typical day, the trainer says "I'll wake up and ask myself 'Am I hungry? Am I not?' Just simply asking yourself those things is really important." She typically starts her morning with a snack. "I love an apple with raw almond butter." For her bigger breakfast? Ezekiel toast with smashed avocado and two fried eggs. Early afternoon, she'll grab snack number two, often Good Culture cottage cheese with blueberries. Lunch is typically a big salad. "My Sweetgreen salad is warm sweet potatoes, goat cheese, nuts, arugula, and pesto dressing." Snack number three could be From The Ground Up's cheddar chips or carrots and hummus. "And then dinner, either we'll be ordering out or doing a delivery service like CookUnity, Thistle, or Sakara — something that makes dinnertime easy."
The takeaway here, according to Roup, is all about doing less, finding and sticking to your non-negotiables, and doing the best you can every day.