A New Morning After Pill Is Fighting Misinformation Around Emergency Contraception
Because sometimes plan A fails.
Lindsay Hattrick/TZR; Courtesy of Julie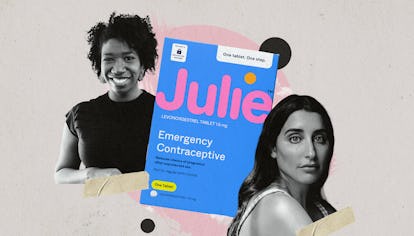 Despite the fact that 65% of sexually active women in the US use birth control, and more than 99% of sexually experienced women aged 15–44 have used at least one type of contraception (meaning condoms, the pill, IUDs, et cetera) as of 2008, the fact remains — accidents happen. Human beings aren't perfect, and if you are a person with a uterus and you're having sex with a partner with a penis, there is a risk that you could get pregnant. For the 46 million sexually active women ages 15-49 who are not seeking to become pregnant, this is where emergency contraception can step in, like Julie, a new "morning after" pill brand that is looking to reframe the conversation around emergency contraception (EC), and make it more easily accessible for everyone.
"Before we launched, no brand owned the space and misinformation reigned freely," says Amanda E/J Morrison, co-founder and president of Julie Products Inc, about the emergency contraceptive industry (which first became available via prescription in the U.S. on July 28, 1999). "We feel Julie is the solution. We are clear, thoughtful, and grounded, and we're with you on your reproductive healthcare journey – that's what we're bringing to the market."
Together with her two co-founders Julie Schott and Brian Bordainick — who you might recognize as the founders of popular pimple patch brand, Starface — the team at Julie is actively disrupting this sector of the reproductive healthcare market via education, increased accessibility, and a 1:1 give back program.
Keep reading to find out more about how Julie is ushering in the next phase of emergency contraception.
A New Kind Of Morning After Pill
Although Julie utilizes levonorgestrel, the same active ingredient in Plan B (which is arguably the most well-known morning after pill), the brand is focused more on improving the purchasing experience and supporting the decision-making process behind emergency contraceptives. "The three of us, [Julie, Brian, and myself], have experience launching consumer brands that solve a problem and creating a new product and space for those who are 'othered' and left out," says E/J Morrison. "This is exactly what we wanted to address with Julie. How we could make women feel included, help them understand that their voice matters, and that they have agency over their own bodies?"
Schott explains that despite being on the market for 24 years, she felt that there had not been enough work done to address misconceptions around the morning after pill. "Part of our mission is to challenge the stigma and shame associated with buying emergency contraception," she says.
The founders reveal that prior to launching Julie, they conducted focus groups and discovered that participants often felt alone when buying EC — despite the fact that millions of people have either gone through the process themselves or know someone who has. That's why, if you take a look at Julie's website, you'll find a particularly robust FAQ section. Rather than feeling clinical and detached as with many pharmaceutical brands, there is a plethora of questions that feel like you'd text your best friend to ask.
"This is a real differentiator for us," reveals E/J Morrison. "When we think about our FAQs, it's not just about listing the ingredients and disclaimers. We're committed to answering the real questions, those you would text your friend in the middle of the night: 'Can I take this while breastfeeding? What do I do when I have cramps? How long after eating can I take this?' We want to capture all of those meaningful real life moments."
How Julie Is Making Emergency Contraception More Accessible
The founders reiterate that Julie is centered on both acceptance and accessibility, since economic barriers or social pressures often prevent people from obtaining the morning after pill. This is an issue that Julie is actively working to solve with their impact initiative, Julie For All.
"When we were thinking about the brand, we weren't just thinking about those who can afford us, or those in urban, progressive areas where talking about sex and reproductive freedom isn't taboo," says E/J Morrison. "We are for everyone seeking contraception options — no matter your geography or political ideology."
Julie For All ensures that for every Julie pill purchased in person (Walmart is their current retail partner) or online, one is also donated to their 70+ donation partners across the U.S. "Our partners touch many many segments of the population: those in rural areas, those in LGBTQIA+ spaces, those who are homeless or unhoused, those in indigenous populations, those who are victims of domestic violence or sexual assault; every segment of the population that needs contraception," says E/J Morrison.
How Julie Navigated The Repeal Of Roe V. Wade
Since the Supreme Court struck down Roe V. Wade in June 2022, the need for safe and accessible emergency contraception is more essential than ever. Says the founders, "People [need] to have factual information when it comes to their reproductive health. As people in a growing number of states have even fewer choices for safe and accessible family planning, we're committed to educating people on what emergency contraception is (and isn't) and making the pill as accessible as possible." Although the ruling didn't emerge until after the brand was launched, it has made the Julie team even more committed to providing accurate information around the morning after pill.
"We want people to know EC exists and that it's a safe and reliable healthcare option. We also want people to understand how it works — what it does, when to take it, how effective it is," the founders say. "In our own research, we saw a lot of wrongful claims, like the idea that emergency contraception and the abortion pill are the same thing, or that it's less available after the latest ruling on Roe v. Wade. EC is an FDA-approved medicine that prevents pregnancy, [does] not cause an abortion, and it's legal in all 50 states — no ID or prescription necessary."
"EC is an FDA-approved medicine that prevents pregnancy, [does] not cause an abortion, and it's legal in all 50 states — no ID or prescription necessary."
With the future of reproductive healthcare looking tenuous at best — hanging on by a thread at worst — it's vital that unbiased and factual information about our rights is as accessible as possible. Julie is committed to that mission, regardless of your location, budget, or ideology. "[We want to] help [women] understand that their voice matters, and that they have agency over their own bodies," says E/J Morrison. "Our hope is that we change the face of women's health so that everyone has a real sense of empowerment and freedom."