I Have No Desire To Have Sex With My Husband (Or Anyone Else) Ever Again
Written by Alyssa Shelasky
Getty, stocksy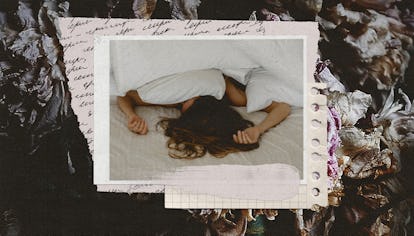 We may receive a portion of sales if you purchase a product through a link in this article.
Sex (Re-) Education is a sex and relationships advice column for women in their late 30s, 40s, and beyond. Got a question for Alyssa? Fill out this form.
Dear Alyssa,
I've been married for six years. I have a great, loving, trusting relationship with my husband. We have two young kids, and while they drive me crazy and exhaust me to the bone, they are my whole heart.
I'm also a working mom. I'm in the creative field, in NYC, and I do very well; in fact, I'm the breadwinner. My husband is a furniture maker (if you're thinking "Aidan!," you're not so off).
The big issue in my marriage is this: I have no desire to have sex with my husband, or with anyone else. No urges. No cravings. Zero horniness. I'm just, like, dead in that department.
We had a great sex life until we had kids. Now, we have sex about once or twice a month, and I fake my orgasm every time, secretly using lube just to feign some semblance of wetness. Basically I'm only engaging in it for the sake of not depriving my wonderful husband of sex. And on that note, he doesn't pressure me, and he's not a jerk about it, but I think he's suffering in silence.
What should I do? I honestly never need to have sex again, but I don't want to punish my sweet husband. He deserves to get laid. It's stressing me out. HELP!
Love,
The Dead Fish
Dear DF,
Your sexual arc sounds so, so, so "normal" to me. You sound like half of my girlfriends — these are outrageously cool women who I worship, and I'm a friend-snob with zero interest in "dead fish," so enough with that!
These days, in my married-with-kids Brooklyn orbit, it seems like (almost) no one wants to f*ck their husbands. My friends say they "get sex over with" out of obligation, or frankly, so their husbands won't stray — and it's like, really? I mean, we're allowed to openly opt out of anything — gluten, plastic, Kanye West, aging, alcohol, Twitter, school field trips — but NOT sex when we're bone-tired and NOT HORNY AT ALL? It's a little bit deranged, no?!
So here's the bad advice I want to give you: Don't ever do anything you don't want to do! Don't have sex with your husband; don't apologize for it; don't even explain yourself. Close up shop. RIP, sex! And if anyone has a problem with it, send them straight to me, because I'm a sexpert and I gave you the greenlight to never bone your hubby again because you're over it, and your time is too valuable, and no orgasm is as good as sleep or online shopping. The bad advice would go on to say: It is not your job to make your man OK with the fact that a million things excite you about being alive in the world today, but currently, sex is not one of them. End of story. C'est la vie, baby.
But here's the problem with all that: You're in a partnership. And you adore the guy! And you want a healthy marriage. So, you (and I) sadly have to accept the fact that canceling sex would probably be the wrong call. In the spirit of approaching your once-a-month sex session (a perfectly fine number in my book) with a little less dread, let's look at your situation from a few different angles.
First, I wouldn't get too attached to this idea that you would like to live a sex-free life for the rest of eternity. It could change. It will change. A wave of desire can overcome you at any time. I know you don't want to hear this now, but it's possible that your husband might just brush a hair off your face or re-caulk the bathtub in a way that makes you feel like you must have him.
Which brings me to the delightful vaginal dryness. Girl. Why the hell can't we get wet anymore? It's depressing! But, like it or not, lube is essential and non-negotiable, and you need to come clean about your use of it. Normalize the lube.
If you want some solid recommendations, I can vouch for Maude's Shine Organic lube. It's not sticky and gets the job done beautifully. I'm also obsessed with all the play oils and hydrating gels from Naomi Watts' Stripes line — everything she's doing for women's wellness is heroic to me. Playground is another popular sexual wellness brand, and all their products are very chic. Coco De Mer's Pure Delight Orgasm Balm is truly something special — it has this menthol extract that really intensifies orgasms for women — but it can be a bit tingly on a penis, so be prepared for that!
I'm not going to try to fix your sex drive, because that implies you're broken and you're not; nor is your marriage.
It also can't hurt to get your hormones tested. I recently hosted a panel with RMA and Modern Age, and they gave me a fascinating wellness screening (bloodwork plus lifestyle intake) to look at my health holistically, including all my hormone levels. Turns out, my testosterone was low, which could be linked to my own lower-than-usual libido.
Which leads me to say: I'm not going to be a hypocrite and lecture you on how to have better sex. I'm not going to try to fix your sex drive, because that implies you're broken and you're not; nor is your marriage. I have a feeling your husband isn't a selfish lover or terrible in bed. I doubt an open marriage is right for you guys, so we'll save that for another column. I bet you know what you like, and aren't afraid of watching porn, so I won't go there either. When people try to convince us non-hornies to do better, it feels insulting. There is nothing more dispiriting than confessing to a friend that sex has become a burden and a chore, and them suggesting a cold plunge and a sexcation.
I'd rather just offer some radical sisterhood. For most of my adult life, I was a sex animal. I couldn't so much as sit in a movie theater with a new boyfriend without climbing on top of him. I once had an affair with a psychotic chef, who literally hated my face, and whom I could not keep my hands off of. I'd make him hook up with me everywhere — a Prada dressing room, all over Paris, every trendy restaurant you can think of. My sex drive was through the roof (and oftentimes on the roof). And yet. Here I am, in my 40s, with two young kids like you, and a hot babe of a partner who is not a psycho chef and whom I'm wildly attracted to, and yet occasionally I too find myself wishing sex would become obsolete.
So I want to suggest something unconventional I've done myself: I want you to explore the power of mind. Go to a bar, order yourself an upscale cocktail, and pretend you're there to flirt and find someone to have an affair with. Check in with yourself as you go. Does it turn you on to think about sex with someone else? Allow yourself to indulge those thoughts. Pretend nothing is off-limits. (Because honestly? Nothing is off-limits.) Do you want to flirt with a woman? With Timothée Chalamet? With Harry Styles in a rainbow jumpsuit? There is no harm in fantasy, and it might even unlock a surprising turn-on that makes you want to run home and shag your man. Maybe some dirty thoughts over a dirty martini is just what you need to feel like a sexpot instead of an exhausted mom.
Start thinking about sex with your husband not as actual sex, but as quality time together.
But if that still feels like too much, here's another suggestion: Start thinking about sex with your husband not as actual sex, but as quality time together. But, naked. I bet you don't get too much adult alone time, and we both know how good that intense closeness and intimacy feels, and how much it matters. So don't even think about the intercourse of it all, just think about how you never want to take those moments for granted while you and your family are still young, healthy, and happy. These are the best days of our lives, DF, and thank you for reminding me of that by writing in.
Love,
Alyssa