From The CIA To Sleepwear, Emily Hikade Discusses Career & Life Changes
Lindsay Hattrick/TZR; Emily Hikade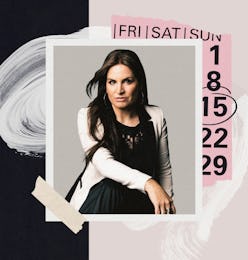 We may receive a portion of sales if you purchase a product through a link in this article.
In TZR's franchise Scare-Free Sundays, industry leaders discuss the all-too-common weekend anxiety (aka Sunday Scaries) that can rob one of the relaxation and rest they so desperately need to properly take on the week ahead. Here, we sit down with Emily Hikade, CIA officer turned owner of sleepwear brand Petite Plume, for her tips on how to keep weekend work stress at bay.
Career shifts and reinventions are not uncommon things. For many, they are often a result of burnout or no longer feeling challenged or inspired in one's vocation. For Emily Hikade, her pivotal moment came from a nearly ill-fated flight over the Indian Ocean. "I was on a plane that was heading to a high-threat meeting," says the former CIA officer to TZR. "And it started to go out of control, spinning sideways toward the water. At the time I had three little boys at home."
Years later, the retelling of this life-altering moment still brings the entrepreneur to tears, as she pauses to collect her thoughts. "So all I could see is my plane is going sideways, the lights going out, and people are screaming," she recounts. "And instead of thinking, 'Holy crap, I'm about to die.' All I could see were the faces of my little kids. And I thought they were going to grow up without a mom. Sometimes your worst day is your most pivotal day. Because then I sort of said, 'You know what, there's no great time to start a company. So why not now?' And from that moment on, I started Petite Plume."
Indeed, upon landing safely, Hikade wasted no time in starting her now highly lauded luxury sleepwear label. And while shifting from a career in Foreign Service to a career in fashion seems like quite a jump, Hikade explains that a love for fashion was instilled in her at a young age. "When I was a little girl, I remember going to the grocery store with my mom, and I would go to the aisle that had the magazines and the fashion magazines, and I would go through them all," she recalls. "But I don't think that as a little girl I even knew there was a career option for that. And then my path took me to international relations and so on. But there was always that love."
That love finally came to fruition in 2015, when Petite Plume launched and took the sleepwear industry by storm. Offering high-end, elegant pajamas in the finest fabrics and prints, the brand has been a runaway hit, earning praise in Vogue, The New York Times, and Forbes.
And while one would think running a successful clothing line is significantly less stressful than working as a counterterrorism officer, Hikade would beg to differ. Yes, her days are spent differently this time around, but anxiety is still a very present element to her day-to-day. Ahead, the business owner and mom of four discusses how she approaches stress and the dreaded Sunday Scaries in her second act.
What does stress look like for you and how has it changed over the course of your career(s)?
That's a great question. I think that, before, it was in those getting ready [moments]. You're prepping for a high-threat meeting. A lot goes into that. And then you're really stressed for the moment you start that operation until the moment it finishes. But then you're dealing with really boring write-ups [afterwards]. So then your stress levels go down.
Whereas, when you're running a business, every day has a new challenge and you don't know what the next challenge will be. Right now we are shooting holiday '23 and finalizing spring '24. And, we are already working on holiday '24. It's just such a big undertaking as you get bigger, and bigger, and bigger. I think as an entrepreneur, you can have your best day and your worst day sometimes on the same day.
What does your day-to-day look like now? As a business owner do you get days off?
I absolutely take time off now. Because that's what allows me to step back from the day-to-day. And that's when the good ideas [come], that's when the strategy comes. That's when you have perspective.
My executive director knows when I actually take vacation, because I come back and go, 'Right, here's our plan for 2023, and here's our plan for 2024. We need to do this, this, and this.' Because it rejuvenates you when you take time off.
And I think that's not really part of our American culture, to step back, take care of ourselves. It's kind of a nonstop meeting to meeting to meeting. It's when you step back that you can make personal advancements, as well as professional, as well as company-focused strategic insights, epiphanies.
In addition to vacations here and there, what do weekends look like for you? What days do you allow yourself to rest?
Well, first of all, I have four boys. And so usually on Saturdays, I am up early. We are at a soccer tournament somewhere far away. My husband and I, we are just crossing each other on Saturday. At one point, maybe a month ago, I was like, 'I think we had too many kids.' And he's like, 'Well, it's too late now.'
But then, on Sundays, I try hard to disconnect. I try hard not to check my phone. It's really difficult to do depending on what's going on. If I can at least assess or try to take a look on Friday what I have going on for the following week, then I can try to disconnect on Sunday.
On Saturday, I'm driving somewhere or I'm sitting there waiting for them to warm up. I have no problem going through my inbox then. So really it's just about Sunday and spending time with them. I am not above forced fun like, 'Kids, get in here. We're making a puzzle.'
Would you say that's a strict rule you abide by during the weekends or OOO days? To make time for your family?
As much as we can. Overseas, it was sacred. Overseas, nobody would ever schedule anything on Sunday, because Sunday was the day to hang out with your family. Here in suburban Chicago, there are basketball practices on Sunday, or they try to fill [the day with whatever]. [Kids] really do take up that Sunday, if you give it to them. So I can't say without fail we're not going to do anything on Sunday. But we always try to have dinner together. We always try to spend Sundays together. And it's difficult because there's so much noise right now. My kids would rather be on Snapchat than hanging out with mom. But I think we do bring that back together, and we do stuff together as a family. And they always love it, and they always appreciate it.
Do you do anything in particular to mentally prepare yourself for the week ahead?
On Sunday, it's me stepping back that really does help recharge me for Monday, so I can really come into it feeling refreshed. I think if I don't do that at least on Sunday, it's still going to be fine. But I think it's that stepping away, even for a little while that really recharges me. Because then you can tackle anything when you're fresh. That's the mental health part of it.
I try to block all meetings on Monday, so I can get through my inbox. Because then, if we have an emergency meeting we need with a PR team or we have a big production issue that's come up, and we need to make some [last-minute] decisions, we can slide that into Monday. I have my regular standing meetings scheduled for Tuesday, Wednesday, Thursday. I also try to leave Friday somewhat open in case, again, there are things that I need to backfill. So, I usually have a very full day on Tuesdays, Wednesdays, and Thursdays.
When do your Sunday Scaries creep in for you? What are they like?
I think they often wake me up in the middle of the night. That would happen in my previous career as well. But I think sometimes, you wake up in the middle of the night because your brain is going through everything you need to do, and you're suddenly wide awake at 3 a.m. thinking, 'Oh my gosh, I should have done that. I need to do that. I need to write that down.'
How do you overcome these thoughts?
I always keep a pad of paper next to my bed with a pen. Because if I do have ideas in the middle of the night, I'll write them down. And then I also do some box breathing exercises to try to get back to sleep. You really have to calm your brain down.
I also count backwards by seven, which is a meditation trick. And, on some occasions, I'll just get up if nothing is working because I have to get A, B, C, D done. At some point I'll just get up and be like, 'OK, it's 4 a.m. I'm going to get a head start.' I'm a morning person by nature. I do not do well at 10 o' clock at night. Don't call me to make decisions at night. I've probably fallen asleep trying to read stories to my kids at night. They're like, 'Mom, wake up. What happened to the green eggs and ham?'
What role does fitness play in your mental health?
I think it's absolutely critical and I feel that when I am not working out or doing yoga, I can feel it. Right now, I've been traveling a lot the last few weeks — I was in LA last week and in New York the week before. So I haven't been into the gym as much and I can feel it. I need to get back in. I need to exercise my body as well as my mind. Otherwise it feels like there's an imbalance.
Any secret power product/practice/mechanism you do in the name of relaxation or self-care?
I am very boring in that, every night before I go to bed, I read. I love biographies, or I just try to keep up on the news as well. Because of my previous career, I'm always trying to keep up on what's really going on in the world.
I love The Week magazine because it gives you little bite size pieces of everything in the world. It's hard to get real world news in America. It's a challenge sometimes to really figure out what is going on in Africa now, or in Asia and such. There's so minimal global news presented in our daily lives that you have to seek that out.