This Smart Wearable Aims To Help You Sleep Better & Reduces Your Stress
This new tech strengthens your nervous system.
by Ileana Morales Valentine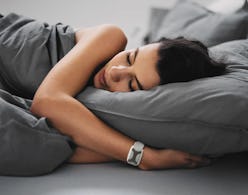 We may receive a portion of sales if you purchase a product through a link in this article.
A lot of wearables out there will track your daily routine and offer biometric stats, but Apollo Neuro has captured our attention for actually improving health by potentially bettering sleep, reducing stress, and sharpening focus.
How Does The Apollo Neuro Wearable Work?
Apollo Neuroscience was born from the research of neuroscientists and physicians studying ways to capture a feeling of safety. The research resulted in the creation of a device that does that — and more — through touch therapy. Place the Apollo Wearable on your ankle or wrist, and varying vibration patterns can help your body relax for better sleep at night and provide more energy and focus throughout your day. What would your days start to look like if you got more quality sleep? Apollo ran a sleep study and found that consistent Apollo Wearable users gain up to 30 minutes of sleep a night.
Think of Apollo like a remote control for how you want to feel through out your day. All you really have to do is rock the Apollo Wearable regularly, which you can wear as a watch or clipped or secured onto clothes. Wearing Apollo more regularly can help train your body to better cope with stress for an overall increased sense of wellbeing and stronger nervous system. A peer-reviewed trial conducted at the University of Pittsburgh found that Apollo also speeds up athletic recovery and cardiovascular fitness.
Apollo Wearable aims to help you move more seamlessly throughout your day using touch therapy as a non-invasive alternative to other approaches. By choosing a mode or creating a schedule based on your day-to-day, the watch-like device delivers soothing vibration patterns to help you relax, sleep, focus, or get energized. It's available in six color variations, including black, white, and rose gold.
Helpful review: "Apollo helps me concentrate on work, sleep better, and chug through social occasions feeling more connected and energized. Worth every penny."
How To Wear Apollo
The Wearable comes with a band, but you may want a spare Apollo Band or one in a different color. The durable, easy-to-clean band comes in black, white, or gray, and it's available in three sizes. Wear it on your wrist or ankle — whatever works for you. The Apollo's vibration is silent and gentle, and you can choose the mode for you mood, as well as the intensity. The free Apollo smartphone app (no subscription needed) makes setting up a schedule or a timer really simple.
Helpful review: "I find Apollo very helpful for maintaining a sense of equilibrium. If something gets stirred up, my nervous system calms down much more quickly than it did before."
If you'd rather wear Apollo somewhere other than your wrist or ankle, try the Apollo Clip. You can attach it to a bra strap, shirt collar, or waistband. This nifty accessory comes in black or white. Note: the Wearable comes with a clip.
Helpful review: "Apollo has helped me to be more calm when dealing with physical and mental stress. It's especially helpful in calming me down and relaxing at night. I've used it every day since I got it."
This article was originally published on