Up Your Farmer's Market Game With These 6 Stylish Totes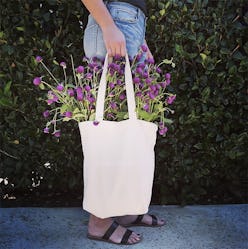 There's something wonderfully satisfying about waking up early and hitting the farmer's market, coffee in hand, especially when you have a cute tote to stuff full of your instagram worthy produce. But if you're rocking the plain canvas tote to the market, think again. Start winning at the farmer's market by upgrading your tote game from the typical go-to canvas bag to something a little bit more stylish from the bright and woven, to the pom-pom covered, and even the sleek and leather.
A.P.C. Julia Tote
The long body shape of this bag makes it ideal for carrying things like flowers back from the market. There are also two zipper pockets on either side of the opening, which make for extra storage space.
Balenciaga Tote
If you're wanting to go all out, look no further than this gorgeous tote crafted in Italy with cotton canvas and leather trim by Balenciaga. The tote comes with a detachable pouch inside to make sure your keys and wallet are all easy to find.
Sensi Studio Tote
Sensi Studio's bright colored, handmade woven tote bags are the perfect way to add a fun splash of color to your weekend trip to the farmer's market. We love the hand dyed blue version with detachable rainbow tassel.
Kara Tote
The perfect shopping bag for the stylish minimalist, this laser cute leather tote boats thin shoulder straps and a simple piece of leather to tie it shut.
Antonello Capriccioli Tote
With a slouchy body and exterior covered in white pom poms, Antonello's nude and white tote is a fun mixture of understated and inventive to go with any market outfit.
Bassike
Keep it simple and easy to take care of with this perforated convertible tote featuring bungee-cord detailing. It is the quintessentially stylish lightweight bag.
Dormify
Sometimes a grocery tote is just a grocery tote. Ward off haters with this quirky and affordable canvas version.