Team Zoe's Jewelry Styling Tips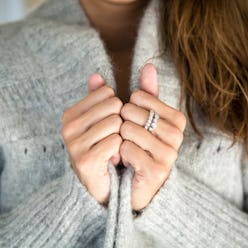 Since no woman in the history of time has been unhappy to receive jewelry, we're pretty confident when we say a versatile jewel is one of the best gifts you can give. Need more proof? We tapped our fellow Team Zoe members to demonstrate how to style shimmering pieces from Lagos for everything from work to the weekend. Consider this yet more proof every woman needs a little sparkle in her life.
Stacking Bangles
Style With: A work-appropriate blouse, high waisted trousers and glossy black mascara.
Diamond Rings
Style With: A cozy cashmere cardigan, your favorite off-duty jeans and wavy '70s hair.
Layering Bracelets
Style With: An embroidered LBD, black tuxedo jacket and sleek pumps.