The 40 Cheapest, Easiest Home Upgrades On Amazon You'll Wish You Knew About Sooner
Surprisingly aesthetic products to update every room.
Written by Jenny White and Veronika Kero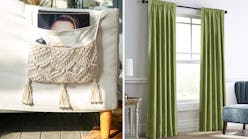 We may receive a portion of sales if you purchase a product through a link in this article.
If you only head to Amazon when it's time to replenish your shampoo and conditioner or need to pick up a new charger, you've been missing out on some surprisingly chic home products. Think: Elegant organizational solutions like marble lazy Susans and handwoven baskets, as well as expert-recommended products to touch up furniture and brighten old grout. No matter which of these you pick up, nobody would know that these expensive-looking things are almost all less than $40 (and even if you told them, they wouldn't believe you).