Amazon's Selling A Ton Of These Clever Things For Your Home Under $35
Amazon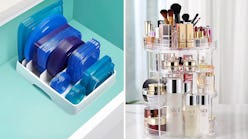 We may receive a portion of sales if you purchase a product through a link in this article.
Even if you fancy yourself a traditionalist, it's hard not to dip into the online shopping world's ever-increasing supply of tricks, cheats, and products that streamline your day-to-day routines at home. (How anyone with limited closet space can live without vertical hangers is beyond us.) And as far as clever home products are concerned, Amazon has the market cornered — not least because some of their most genius things cost well under $35.
From storage containers that prolong the life of your produce to a motion-sensing keyhole light that'll give you peace of mind when you come home at night, Amazon's selling a ton of these clever products for your home under $35. Though you may add these things to your cart as an afterthought, you'll soon wonder how you ever did without them.