The Shoe Designer You Need To Know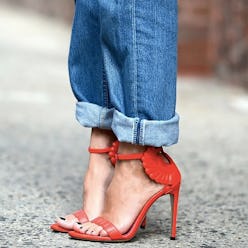 Counting Zoe Saldana, Aimee Song, Hailee Steinfeld and Hedi Klum as fans, Amina Muaddi's shoe line, Oscar Tiye, is sure to be on every red carpet come award season. Charting her own path to become one of the most influential shoe designers of our generation, Amina has also been commissioned by French designer Alexandre Vauthier to design shoes for his ready-to-wear and couture collections. We wanted to know what it is like to be one of the youngest female shoe designers in the world, so we slipped on our best pair of Oscar Tiye's and spent the day with the designer.
"Early in the morning I visit my factory to work on the new Oscar Tiye Pre-Fall and Fall 16/17 collections. I love working here because it's when I feel the most connected to my job. Working on prototypes, lasts, heels and leathers amidst the bustle of the factory is what makes me the happiest."
"After a productive morning I head to the airport—toting luggage filled with mostly samples and prototypes—to catch a noon flight for Paris where I have a very long day ahead of me."
"I arrive at the Plaza Athénée and fit in a quick beauty treatment at the Dior Institute. After a quick manicure and pedicure (necessary for the day's upcoming activities), I scoop up some of my favorite products."
"Next I head to meet Alexandre Vauthier in his atelier. We are working on the 2nd season of his recently launched shoe line together which is so exciting! Besides being extremely talented, Alexandre is an amazing friend and mentor. I love designing with him because our ideas connect naturally and we have so much fun."
"Alex gifted me this beautiful choker necklace I've been coveting from one of his past collections."
"After working at the showroom, Alexandre and I headed to the Cui Cui Studios in Paris where the talented photographer and videographer Jean-Baptiste Mondino was waiting for us to shoot the video campaign for Alexandre Vauthier's Spring 2016 shoes."
"Alex shoots the shoes on me because he says I have good energy and nice feet (and a great pedicure). How could I say no?"
"I can't share too much but suffice to say the video involves me smashing a lot of objects so naturally it was a very fun video shoot. Stay tuned to see the campaign in the next few months."