Zara's New Collection Is The Convincing You Need To Try Cargo This Season
Zara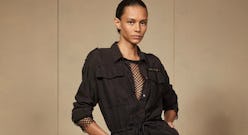 The line between high fashion and streetwear isn't just shrinking — it's currently nonexistent. Taking a note from the Supreme and Off-White crowd, Zara has jumped into the competitive fray, temporarily shelving its delicate ruffle dresses and prim cardigans in favor of fishnets and cargo. Enter Zara SRPLS, Zara's bold take on streetwear, and exploration into the complex domain of military fashion.
Zara SRPLS doesn't want to just be the little sister to Zara. It wants to be your new best friend. The entire style of SRPLS website winks at luxury fashion drops — the seasonal nomenclature, the square red and black SRPLS logo on full display, the overall lack of vowels in product names, and the line's philosophy ("A New Version/A New Perspective") printed before you can scroll down to the actual clothes. SRPLS is asserting itself firmly not just as clothes, but as a lifestyle.
It's evident in the sheer expansiveness of the SRPLS line; the womenswear collection alone has over 100 pieces, ranging from sunglasses to sweaters, with pieces appropriate for cubicle wear and crop tops to save for the weekend. Some of the SRPLS pieces will cost you much more than regular Zara clothes, as well. Whereas most of Zara's bestselling dresses are below $100, the cargo-inspired silk dress (titled SLK DRSS 01) retails at $249. But really, the pretty bluish gray dress is worth it, constructed from 100 percent silk and showing off Zara's understanding of what makes a gorgeous dress.
Anyone who's tuned into street style knows that cargo pants are back. Deep olive shades, like these SRPLS green cargo trousers for $119, are affectionately called "Kim Possible pants" in the fashion circle on social media. But Zara takes the cargo trend one step further, isolating the utilitarian nature of cargo and bringing it back to its military roots. The SRPLS line's use of cargo, camo, and tactical gear neutrals ends up feminine, thanks to a helpful dash of fishnet and animal print.
Some of the pieces from the SRPLS line look like you could have actually bought them from the Army surplus store, save for a ribbon detail here and a bright SRPLS logo there. Pragmatic workwear is in, and brands like Dickies and Carhartt are getting celebrity wear. Pick up the SRPLS variation, which brings high-fashion style with a lower price tag: The $169 FLGHT JMPST 01 has all the detailing of a functional military jumpsuit in a tailored, form-fitting package, finished with metallic hardware. The collar is also made to open more than a regular, thicker coverall, to reveal whatever mesh shirt or lacy bralette you layer beneath.
Only a few months have passed since Vogue pondered on the meaning of warcore fashion — though as far as womenswear goes, having more pockets than you need instead of none is a plus. Ahead, 13 pieces from the Zara SRPLS A/W 18 line to shop before they sell out.