Zara's Black Friday Sale Is Here — And This Animal-Print Coat Is 30 Percent Off
Zara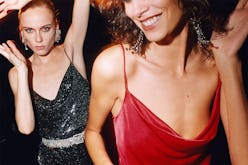 Amidst all of the craziness that comes with the upcoming holiday season, there also comes the major — and we mean major­ — shopping sales. Though you might just be getting home for the holidays to see your loved ones or planning out the next family meal, you can't ignore the fact that biggest retail day of the year is on the horizon. Sure, you can map out your plans for every store you'll stop by this Friday, but if there's one sale that any should shop from this year, it Zara's Black Friday sale, which starts Thurs. Nov. 22 at 8 p.m. EST.
After all, when it comes to seasonal sales, Zara doesn't mess around. This year, the retailer just announced that it will be offering 30 percent off its "Collection" — which means down coats, plaid blazers, and even cashmere sweater prices are all slashed by almost a third. And, if you sign in via the brand's app, you can enjoy the Black Friday sale an hour before everyone else: The 30 percent off prices will be available for app shoppers starting at 7 p.m.
Of all the major retailers that cut down prices for the post-holiday event, none stir up a monumental level of excitement quite like the Zara. With its cool, fashion-forward pieces (not to mention the endless amount of options for any type of style), the brand is already loved by It girls, editors, and fashion lovers alike. So when the moment Zara marks down its products arrives, everyone acts — and fast. If there's any time to stock up on the biggest trends of the season, it's now. And based on the brand's past sales, one thing can be sure: These pieces will be selling out faster than you can imagine.
Due to the sheer volume of stylish pieces to shop during this epic sale, sifting through page after page of products can verge on the side of overwhelming. However, as you wait in anticipation for the prices to drop, it certainly doesn't hurt to do some research ahead of time to know what you're vying for as soon as the sale hits. (Is there anything worse than the feeling that comes when you've added your favorite styles to your cart, and by the time you check out, they're already sold out? Answer: no.)
Whether you're on the hunt for a new overcoat or looking for a show-stopping dress to wear for all of your holiday parties, keep an eye on your favorites until the sale takes place.
Just in case you're not sure where to start looking, keep scrolling down to see some of the coolest pieces to shop this Black Friday on Zara's site below. And, with 30 percent off all of 'em, you'll want to add all of these to your cart, stat.
Puffers
If you're in need of a new coat for throw on over all your winter outfits, these will do just the trick.
Coats
If you'd rather opt for a wool or faux fur coat, Zara's sale includes a handful of those, too.
Winter Accessories
Whether you're looking for a scarf, a hat, or just a cold-weather appropriate bag, Zara's got 'em all.
Sweaters
You can never have too many sweaters for the winter, so stock up on these while you can.
Other Favorites
A few other editor-picks that'll sell out fast, including a dress that's perfect for every holiday party.