The Only Accessory You Need For The Holidays, According To This Jewelry Designer To The Stars
Courtesy of YUN YUN SUN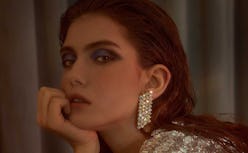 There are only a few weeks left until the New Year arrives. And chances are you have some holiday fêtes and get-togethers to attend before the final days of the decade come to a close. Whether it's an ugly sweater competition with your family or your office's holiday cocktail party, you probably know what you'll be wearing for each occasion. But if there's anything that'll instantly dress up your look no matter what, it's a glittering statement piece or two — and YUN YUN SUN'S jewelry collection was practically made for the holiday party season.
If you haven't had the chance to familiarize yourself with YUN YUN SUN, it's about to be your go-to brand for statement-making jewelry — whether you're looking for a timeless, dainty style for everyday occasions or a bold, sparkling option for special events. In other words, it'll be perfect for your holiday parties.
Designed by Taiwanese fashion girl and co-founder Aimee Yun Yun Sun, YUN YUN SUN has a variety of fashion and fine jewelry pieces to incorporate into nearly every ensemble. And yes, that includes the label's head-turning fashion styles, like the $259 Saturn Earrings or — if you want something even bolder — the $620 Helix Necklace.
"The purpose of our fashion collection is to bring some glamour to the everyday," the designer tells The Zoe Report. "Because the pieces are considered statement pieces, I tend to let them take the lead in terms of styling — pair them with a simple tee along with your favorite jeans and a pair of heels and you're ready to go."
Now, if you're looking for something on the subtler side to go with your holiday looks, there are plenty of other options, too. Yun Yun Sung shares that the $161 Victoria Earrings or the $259 Lina Earrings are options that "are both great go-to pieces, as they really help to bring any outfit to life." Of course, if you're heading from the office to a friend's dinner party and need something that'll work for day and night, the designer recommends YUN YUN SUN's $174 Belinda Earrings or the $141 Ginger Earrings. "[These] are great pieces that can take you from the office to a night out with friends," she says.
To complement these earrings, be sure to add the $226 Samira Bracelet to your jewelry collection for a classic everyday piece. And if you want an option that'll stand out during your next festive night, the brand's $489 Retina Bracelet is sure to do just that.
Scroll down to see TZR's favorite pieces from YUN YUN SUN to wear during this holiday party season below.