YSL's New Lip Balm Is The Prettiest Way To Hydrate This Season
Grosescu Alberto Mihai/Shutterstock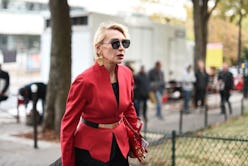 Let's be honest: As much as you may dream for the winter wonderlands filled with blankets of snowfall and crystal clear icicles, it's hardly a reality. Considering the brutal winter weather of below-freezing temperatures and harsh winds that come with this time of year, if there's any beauty in the season, you're probably enjoying it from the safety and comfort of your home rather than facing it head-on. However, for the moments when you do go outside, the last thing you want is dehydrated skin — especially when it comes to your lips. Luckily, YSL's Volupté Plump-in-Color is the perfect balm to combat that.
While basic balms and salves will always serve as winter essentials, there comes a time when you want to add a little color to your beauty look, which is where YSL comes in. The luxury brand's latest product, which is available for $39, is a power-packed colored balm that you'll want to keep on you at all times. Available in six different shades, which range from a light champagne to a cool berry, the Volupté Plump-in-Color will give you a bold and pigmented shine. To add to it, each of the balms features a black heart-shaped core, which provides the just-kissed plump look to your lips.
YSL created these lip balms using peppermint oil, coconut oil, pomegranate extract, and hyaluronic acid for a soothing sensation any beauty lover will know and adore. Of all of these nourishing ingredients, however, it's hyaluronic acid that acts as the tried-and-true lifesaver. A sugar molecule found naturally in the skin, it will increase your skin's water content as well as prevent water loss, according to Allure's Skincare Glossary, making it a prominent ingredient for any skincare product focusing on hydration.
Whether you want an effortless way to take your daily beauty regime up a notch, or you're looking for a chic and hydrating alternative to your matte lipsticks, the Volupté Plump-in-Color will change the way you think about lip balms. On top of that, you can also add a touch of personalization an engrave something unique on the side of tube, free of charge — an option that will definitely come in handy now that Valentine's Day is quickly approaching.
Now, scroll down to see which of the six colors you'll be adding to cart.